Some of us drop our phones frequently and get a brand new one every year. Some of us (looking at you, dad) are still rocking the same iPhone 5 we've had since the Obama administration. In the former, you're probably spending too much money on phones–and in the latter, your operating system is *definitely* out of date, and your device probably SO slowly.
Neither is optimal–but exactly how often should you replace your phone, according to experts? We caught up with five leading tech voices to discover what they say is the perfect cadence for treating yourself to a new device, and when you need to hold off a little longer. Here's what they had to say: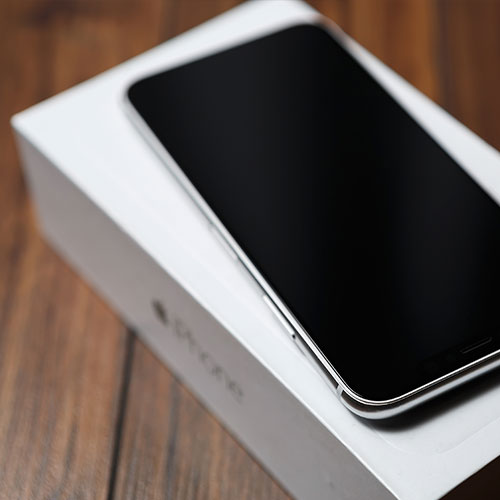 Every Other Year

"It depends on your budget and what matters to you," Noah Dentzel, Co-founder & CEO of Nomad tells us. "If you can afford it, usually once every other year is a pretty good upgrade cycle. It's nice to be on the later camera innovations because it will just make those photos worth so much more in the decades to come."

And when should you wait? "Tip try to time it with major model upgrades, and not simply an "S" upgrade," he advises." Good point!
When It's Out Of Date

"You should replace your iPhone once there are no more iOS updates for that particular model," Samuel Zhou, financial/tech blogger with creditcardio.net tells us about the most extreme case for upgrading. "Not updating to the latest iOS version opens you up to security vulnerabilities, malware and you might not be able to get the latest updates to your favorite apps." Say it ain't so!

"If the smartphone manufacturer is no longer releasing new operating system updates for your device, it means the device is very outdated and you'll want to upgrade to something new because old operating systems are more vulnerable to cyberattacks," Michael Bancroft, co-host of Globalive Media's "Beyond Innovation," which airs weekly on Bloomberg Television agrees.
Every Four Years

"I typically like to squeeze as much life out of my phone as possible," tech expert Jared Wolff tells us. "I kept my iPhone 5 until it was about 4 years old. I kept my iPhone 4 for about the same amount of time. Four years is a good number because it's typically when things really start breaking: screens, batteries, etc. Sometimes you can squeeze a more life out but four years is a definite good rule of thumb if your budget conscious."

And it doesn't always have to be new from Apple. "When you do buy a 'new' phone you can always buy second hand on eBay. I bought my iPhone 6s for upwards of $300, and they're about half price now. Not bad!"
When It Slows Down

"There are some telltale signs you need to replace your iPhone, or any smartphone for that matter. If you notice it takes your device a long time to carry out basic functions like turning on or switching between apps, it's because the processor is wearing down and you need a new smartphone," Michael reveals.