What: Fall's Fitted Cotton Blazers
Why: New fall clothes? Fantastic. Unpredictable autumn weather? Maddening. I'm all for extending summer-like temperatures before the big chill of winter begins, but getting dressed on an autumn morning can become an exercise in advanced layering. Sweaters, long-sleeved tees, tank tops…by the end of the day you look like you lost one too many hands of strip poker. Instead of playing the layer game, try a fitted cotton blazer. It's a casual yet chic option for autumn weather, and you can pair it with jeans, bermudas or skirts depending on the day's chill factor. Even better- choose cropped.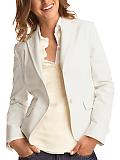 Follow the trend:

Old Navy Women's Cropped Military Jackets
and Old Navy Women's Cotton Military Jacket
Gap's Essential twill blazer
is part of the Outerwear Sale at .
Marc by Marc Jacobs Kirsten Knit Jacket
and the Karl Lagerfeld Zip-Up Bomber Jacket both at eLuxury.com.