These Are The Only 4 Boots That You Should Be Shopping This Winter
Well, the weather outside is becoming frightful with the temps dropping by the day. And if you're a city-dweller like myself, you know that only means one thing: snow is coming! But with it comes the freezing rain, sleet, slushy mud, and black ice that go hand in hand with a bitterly cold winter, which is why it's so important to have boots that will help you brave the worst of it. Lucky for you, I've done the research for you, and here are the four boot styles that you need in your closet ASAP to keep you warm and dry (in style!) until the first day of Spring. 1.An Amazing Snow Boot There's nothing more annoying (or uncomfortable!) then sloshing around in the snow with the wrong shoes on, which is why if you live in an area that tends to get a few inches, you must own a quality pair of snow boots. Let me suggest the Khombu Jilly Boot. I actually took these boots out for a spin during the first snow of the season in New York, and they're legit! These stylish, lace-up duck boots are the perfect option for light to medium snowfall coming up to mid-calf and offering just the right amount of coverage. But the faux-shearling lining is what really made me fall in love with them. These insulated boots really do keep your feet warm and toasty while you're ankle deep in snow. And they also have a no-slip grip on the sole that kept me from sliding on some icy sidewalks. The only caveat: they don't come in half sizes, so go ahead and size up. It worked out fine for me. 2. The Everyday Cold Weather Boot Regardless of what the weather is like in your area, rocking your regular old shoes outside when the streets and sidewalks are stone cold just doesn't cut it. So you definitely want an everyday pair like Sperry's Saltwater Duck Boot that can hold their own in the rain and the slush. And I suggest you find a pair of these fast! First off, they're super cute and come in tons of fun color combinations, so you'll have no problem mixing and matching your chosen boot with your winter wardrobe. I know I didn't when I tried these waterproof booties out on a chilly December afternoon. These duck boots are incredibly lightweight for a waterproof boot and don't feel clunky at all. In fact, the fit is cozy, and the barrel tie lacing keeps you from having to deal with the hassle of loose laces. Even better, these boots have a micro fleece lining to keep feet warm. Plus, they also have Sperry's signature Wave-Siping™ to make sure you have traction on both dry and wet surfaces, which means you can wear these boots from season to season. 3.A Multipurpose Snow Boot Admit it: We all have those boots that should only be seen and not tested against the weather! So finding a winter boot that can withstand a heavy snow plus rainfall is a huge win/win, and I think I've found the boot that you should consider putting in your cart--the BOGS Classic Mid High Snow Boot! These tall boots are a keeper. They may look like and slide on like rain boots, but they're so much more. They're made out of rubber and neoprene, a fabric that's waterproof and super flexible. I'll co-sign, as I had room to bend around and maneuver more than any rain boot that I've ever owned, which will come in handy when I'm trekking through several inches of snow in January. In addition, these boots have been tested up to -40°F and have a no-slip rubber sole to keep you from taking any falls. And while they don't have half sizes, they do run big, as I was comfortable going down to a 9 from a 9 1/2. 4.A Stylish Rain Boot Every woman needs a good pair of rain boots. After all, no one wants to ruin their favorite pair of boots with water damage. And these stylish Aeriel Beck Waterproof Bootie from Sperry should be on your radar right now. Think about it: you don't always have to deal with snow, but by the end of winter, the rain starts falling as the weather transitions. So snagging this moto-inspired boot is a good idea. I also tried out these boots, which you do have to break them in at first since they can be a little stiff on the shaft. But that's a small price to pay as these sleek boots are the definition on fashion and function in one shoe. Though, what separates these rain boots apart from the rest is that they're waterproof with a comfy rubber sole to walk in, and they're also fleece lined, which is something most rain boots don't offer. Basically, you can literally wear them all year long. And now is the time to stock up on a few (or all!) of theses winter boots while there are tons of after-Christmas and end-of-the-year sales going on right now. Grab some of these amazing boots ASAP! I guarantee that you won't be disappointed. [Photos: Shelby Rodriguez]
Need New Rain Boots For Fall? These Bestselling Sam Edelman Rain Boots Are On Sale For Just $38
The one universal item that you need in your shoe rotation? Rain boots! And we're not just taking just any old pair; we mean a good, quality pair that you can wear in the rain, sleet, or snow--and still look super stylish as you strut through those puddles! If you're still looking for that pair, then you're in luck. Nordstrom has the perfect boots on sale right now: these Sam Edelman 'Tinsley' Rain Boots! These amazing booties are not only super chic in basic black--and remind us of the classic Chelsea boot--but can be worn with pretty much anything from jeans to dresses! (Let's not forget they're waterproof!) Did I also mention that you can snatch up these beauties for crazy cheap at only $38?! So you better hurry up and treat yourself to a pair before they sell out. 'Tinsley' Rain Boot ($38.46, down from $54.95) SHOP MORE NORDSTROM SHOES NOW Be sure to check out this bestselling dress from Nordstrom and these statement sleeve tops. [Photo: Nordstrom]
Don't Wait Until Fall–Buy These Cute Rain Boots While They're On Sale For Just $39 Right Now
If you are looking for cute rain boots, now is the time to invest in a pair. Imagine my surprise when I was shopping the Nordstrom sale department and came across these Jack Rogers Sallie Chelsea Rain Bootie on sale for just $39.90, down from $53.95! Not only are they waterproof making them perfect for rain, snow and sleet, but they're actually ridiculously cute, too. They kind of resemble classic leather Chelsea boots, only they're fully weatherproof. Bonus! Jack Rogers Sallie Chelsea Rain Bootie ($39.90, down from $53.95) The boots are available in a bunch of great colors, so treat yourself to a pair while they're on sale. We're betting these are going to sell fast at this price! Jack Rogers Sallie Chelsea Rain Bootie ($39.90, down from $53.95) Jack Rogers Sallie Chelsea Rain Bootie ($39.90, down from $53.95) Jack Rogers Sallie Chelsea Rain Bootie ($39.90, down from $53.95) SHOP MORE SHOES AT NORDSTROM Be sure to check out these super comfortable suede booties and these bestselling Moto leggings! [Photo: Nordstrom]
Hunter Just Did Additional Markdowns On Cute Rain Boots And The Prices Are Unbelievably Good
If new Hunter boots are on your wish list, drop everything now! Hunter just did additional markdowns at their seasonal sale and we rarely ever see Hunter boots at prices like these. For a limited time only, you can snag a pair of Hunter's iconic and must-have rain boots for up to 40% off; rain boots are as low as $85, people! As someone who's been caught unprepared by quite a few thunderstorms lately, you can take my word for it: it's always Hunter rain boot season. If you don't have a pair of these boots in your closet, you seriously need some. They're great all year round because they keep your feet warm and dry. Even better, they actually look cute and stylish. And if you already own a pair, don't let that stop you from taking advantages of these prices. It won't hurt to have a new pair or two (hint, hint). To give you a head start, we rounded up some of the best boots from the sale: Women's Green Short Gloss Rain Boots in Succulent Green ($84.95 down from $140) Women's Original Tour Short Rain Boots in Mosse Pink ($84.95 down from $140) Women's Original Short Gloss Boots in Pale Mint ($84.95 down from $140) Original Refined Chelsea Gloss Boots in Pale Air Force ($87.95 down from $145) Norris Field Rain Boots in Burgundy ($80.95 down from $150) Tall Refined Rain Boots in Pale Air Force ($99.95 down from $165) Original Refined Chelsea Gloss Boots in Damson ($101.95 down from $145) There are a ton more boots on sale, so you'll have to see it for yourself! SHOP THE HUNTER SALE NOW Be sure to check out the perfect black leggings for $23 and the one color every fashion girl will be wearing this season. [Photo: Hunter]
For The Win: Rain Boots That Don't Look Like Rain Boots
Yes, Cute Accessories For Rainy Days Really Do Exist–Here's Proof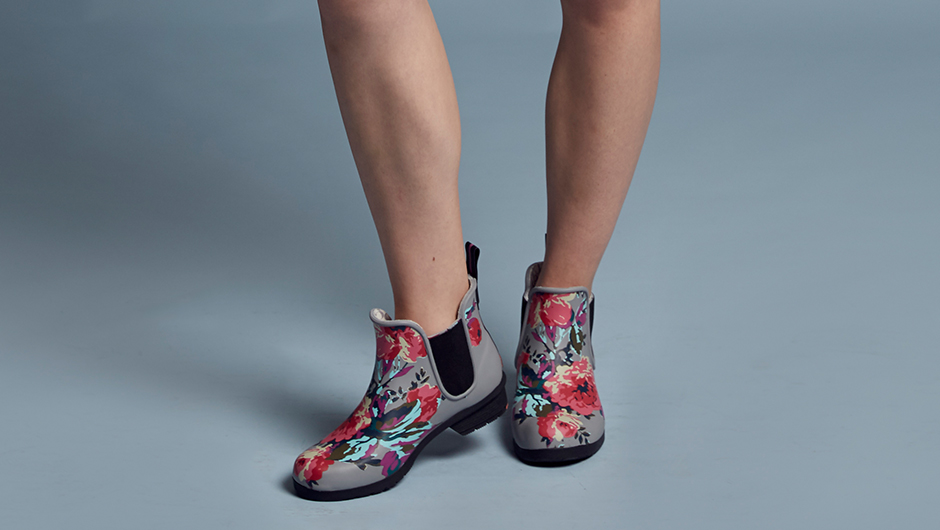 We're Giving Away Free Chooka Rain Boots Just In Time For Spring Showers
April showers bring May... you know the rest! And with April just a few days away, it's probably time you start dusting off your rain boots for the wet weather ahead. Oh you don't own rain boots? Well, you're luck! In honor of the start of spring, we teamed up with Chooka to give 10 SHEfinds readers a free pair of rain boots. Yes, you read that right. Cute rain boots for free! And the timing really couldn't be better. Chooka just released their new spring collection and there are so many stylish options. Why settle for clunky boots in boring colors when Chooka has so many sleek options in fun colors and patterns? From knee-high boots in matte black to pretty pink mid-calf boots, you will have a hard time choosing just one pair. Don't miss this incredible chance to win a great pair of waterproof boots from Chooka by entering below. Good luck!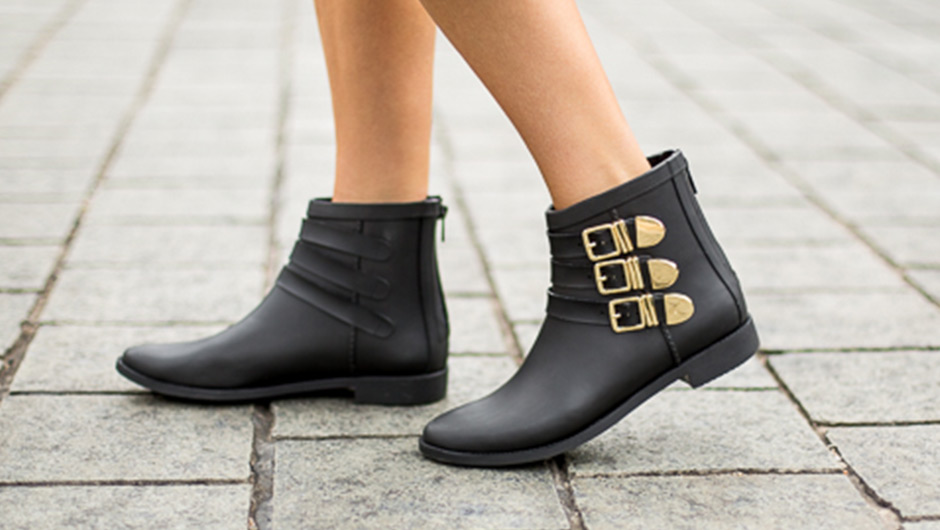 Shop Our Favorite Rain Boots That Are Actually Cute, Not Clunky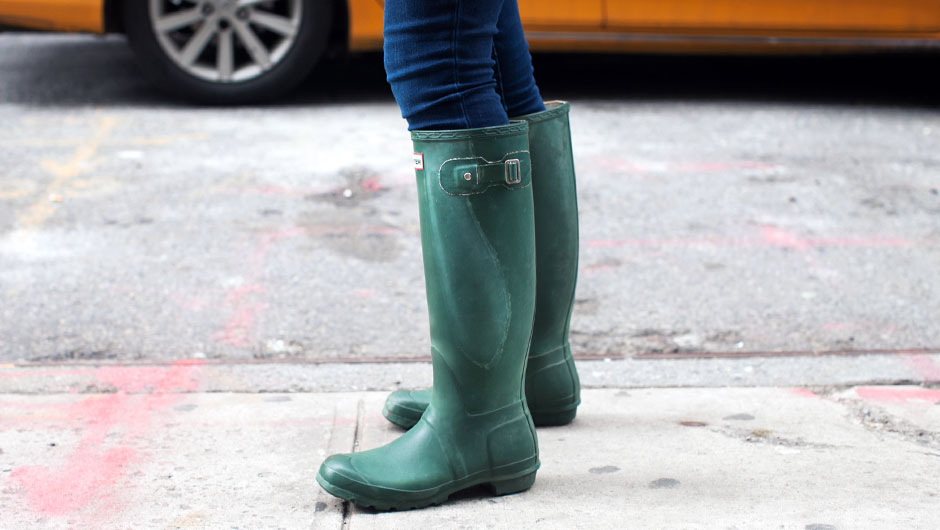 What Is 'Blooming' And How To Get Rid Of It
SHEfinds receives commissions for purchases made through the links in this post. The daffodils are in full bloom. That sounds really beautiful and poetic, right? Also, like, Orlando Bloom... definitely positive connotations there. Well, the reality of "bloom/blooming" is far less cool and celeb-studded than the name would have you believe. What is it? It's the white powdery film that collects on the outside of your favorite rain boots. See, not as fun as Orlando or spring flowers :/ It's pretty strange and annoying — like the ghost of monsoons past haunting your calves — but there is a pretty simple way to get rid of this so-called "Bloom." And the answer is... olive oil! Rub a teaspoon of olive oil on the affected area of each rain boot with a cloth and the bloom will fade away — leaving you with more pressing blooms to think about (Orlando). Unfortunately, there is no way to prevent bloom from uh, blooming in the first place. It's just a natural rain boot phenomenon. But it's so, so easy to remove, so don't sweat it! Grab a bottle of olive oil and get de-blooming! Hunter Original Short Gloss ($140) Don't forget to check out: What Is Ghee? Everything You Need To Know About Kourtney Kardashian's Weight Loss Trick and What Is A Shacket? Find Out Why You Need One For Spring [Photo: Shelby Rodriguez]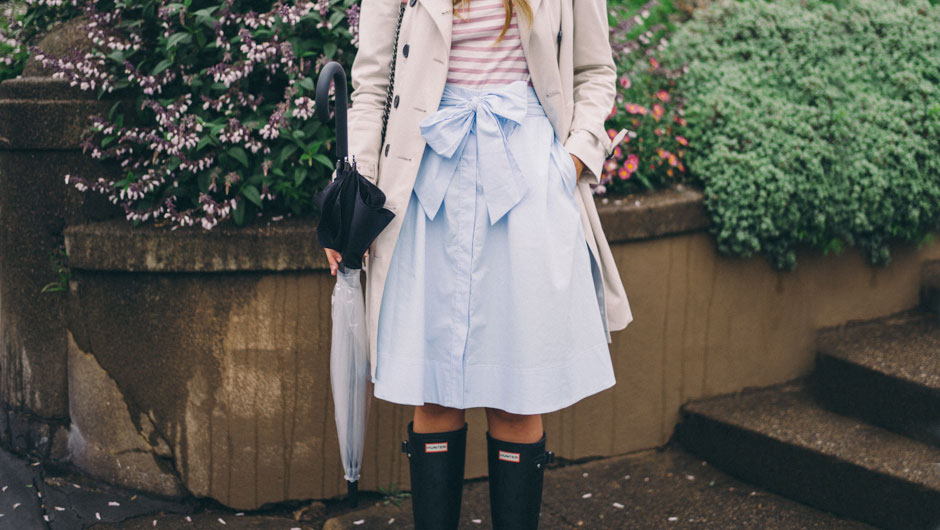 4 Different Ways To Style Your Rain Boots #WeatherApproved
SHEfinds receives commissions for purchases made through the links in this post. It's so difficult to "dress up" when it is raining. It takes every ounce of strength to not throw on a pair of leggings with a hooded sweatshirt. Unfortunately, when you have to go to work in the rain you can't show up looking like a hot mess. Rain boots aren't exactly the most glamorous shoes but if you style them properly they can look really cute. Keep on reading for four different ways to wear rain boots. With Jeans This one is a bit obvious. Jeans are by far the easiest thing to pair with rain boots because they are versatile and match virtually any style of rain boots. You can go the casual route and wear jeans and rain boots with a laid back sweatshirt or dress it up with a knit sweater. It's best to wear jeans that are on the darker side because they blend in easier with your dark rain boots. On the other hand, light-colored jeans look cool with bright rain boots. Levi's Mile High Super Skinny Jeans ($78) With Socks/Legwarmers If you are into layering then wearing socks or legwarmers with rain boots is definitely up your alley. Wear neutral-colored socks, like black, white or grey, with your rain boots to create the ultimate comfy, layered look. It's important to not have too much of the socks or legwarmers showing. If they go up to your knees then your legs will look shorter than they are. Only let a few inches show from the top of your rain boots. Free People Cozy Cable Socks ($19.60, down from $28) With Dresses and Skirts Don't be fooled into thinking you can't wear rain boots with dresses or skirts. Since rain boots are a bit chunky on their own, you should avoid wearing a tight fitted dress or skirt because it will draw more attention to your clunky boots. A fit-and-flare or shift dress is a great option. Also, don't be afraid to wear a patterned dress or skirt! A playful, bright pattern will perfectly balance out your simple rain boots. Current/Elliott The Muscle Tee Dress ($158) With Tights Want to wear leggings with your rain boots? Try a pair of tights with a dress instead. They will instantly take your outfit to the next level. A pair of colored tights is the perfect complement to your rain boots. Of course, keep in mind the color of your boots and tights. Obviously, you want to make sure they match! Wear a simple fit-and-flare dress with tights and a statement piece, like a leather jacket or collar necklace. Commando Matte Opaque Tights ($36) Now go put on your rain boots and jump in some puddles! Just kidding...kind of. Don't miss 26 midi skirt outfit ideas perfect for spring and find out what your favorite swimsuit style says about you! [Photo: Gal Meets Glam]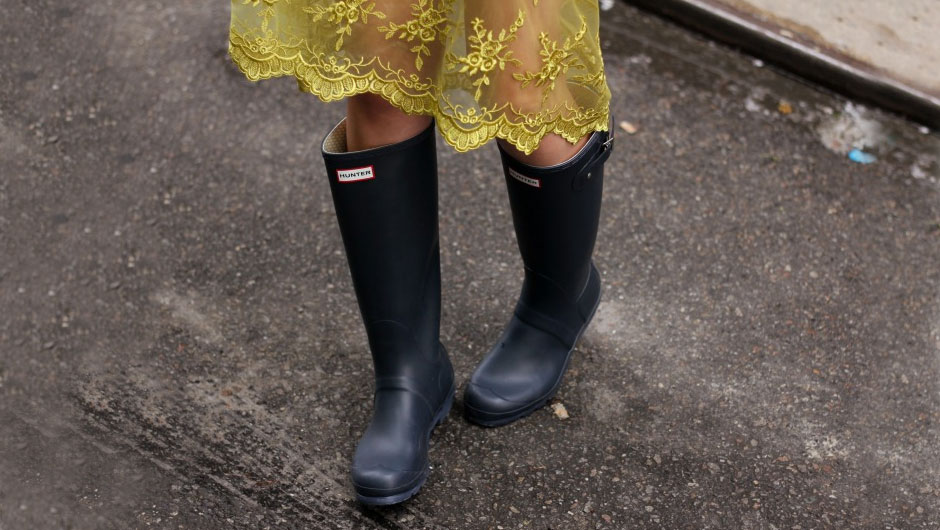 12 Seriously Stylish Ways To Wear Rain Boots (Yes, It's Possible)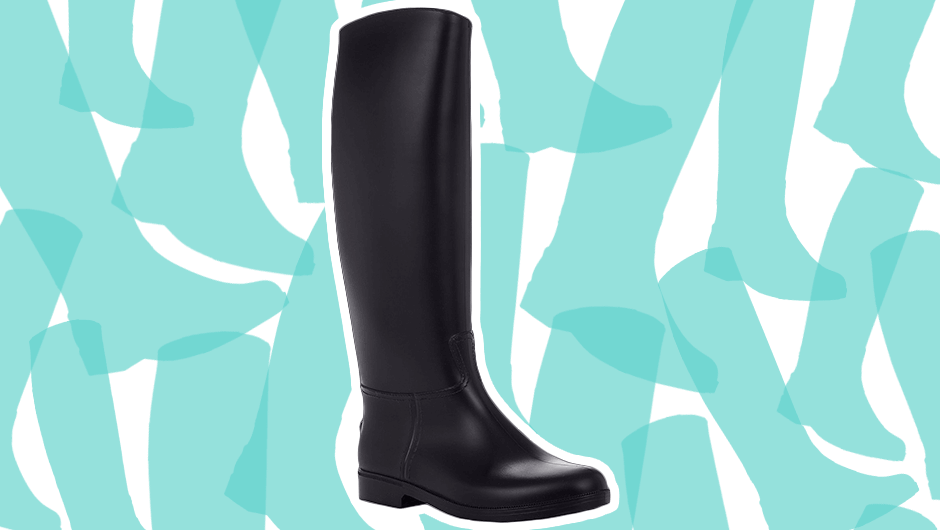 Buy These Cute Rain Boots Now So You're Never Caught Off-Guard By Wet Weather Again
Lots of ladies here on the East Coast were totally surprised to wake up to snow and slush this morning. So if you've been putting off investing in a stylish pair of boots that keep your feet dry in wet weather, now is the time. Stop whatever you're doing and get to Barneys Warehouse now. They currently have a super cute pair of all black rain boots on sale for less than $100. Take a look: Barneys New York Cavallerizzo Rain Boots ($90, down from $130) Pretty sweet, right? Because they're all black they look like leather, except they'll be able to withstand walking around on slushy streets and jumping in over puddles. Once you've added these cute boots to your cart, keep shopping! Barneys Warehouse is currently having their Purple Card event, so you'll get a $25 gift card for every $250 you spend. Just don't wait! This offers ends on 2/7. BUY YOUR CUTE RAIN BOOTS NOW Be sure to check out designer jeans on sale and cheap Asics sneakers. [Photo: Barneys Warehouse]
Hunter Boots Are Never, Ever This Cheap–Get A Pair For $99 Today
This is not a drill. Today only (or while supplies last) Hunter is offering their Women's Original Tall Gloss Rain Boots in Mint for just $99. Hunter boots are never, ever this cheap. All sizes are still available, but with a deal this good, that won't last very long. If mint green isn't your thing, the same style is on sale for $104.99 in olive green and light pink. It's a Black Friday miracle! SHOP THE HUNTER BOOT SALE NOW Don't forget to check out: the best Black Friday sales and Jessica Alba's $50 Draper James bag [Photos: eBay, Instagram]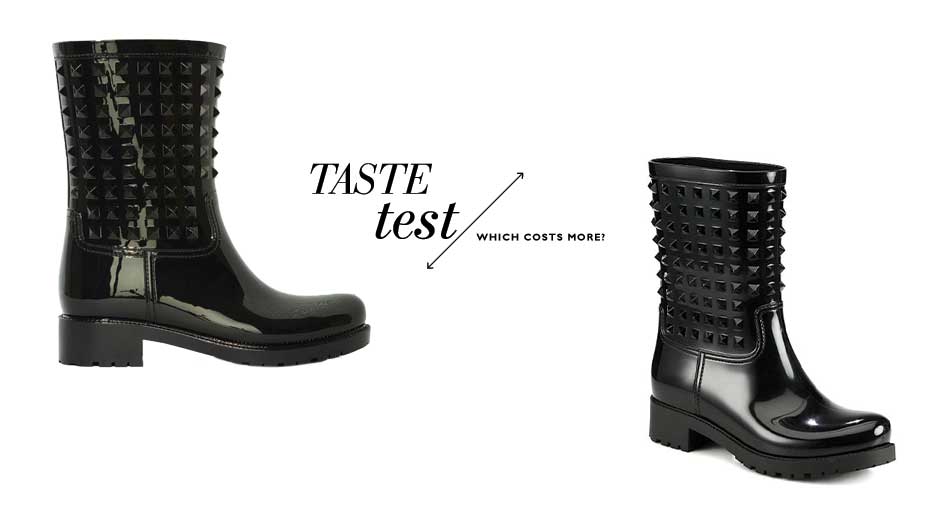 Can You Tell Which Studded Rain Boots Cost $380 More Than The Other?
If you don't own a pair of rain boots, you need to get yourself a pair, like, yesterday. Rain boots are an essential part of anyone's wardrobe and they should be fun and stylish. It's a good way to add a little jazz to a dreary day. If you want a pair of rain boots that are versatile but still chic, try a pair of studded rain boots. A couple great options are Valentino Rockstud Rain Boots ($445) and Nasty Gal Camden Studded Rain Boot ($65). They look nearly identical. Can you tell which pair costs $380 more? Click the pictures below to find out! Don't miss your chance to shop Kate Spade's Surprise Sale and shop the sneakers that every model is obsessed with!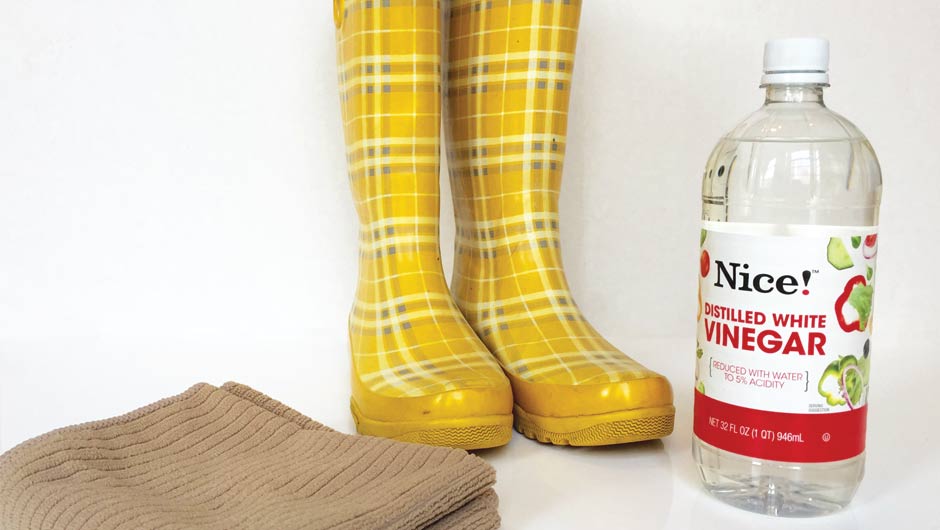 HACK: Here's How To Get The Rubber Smell Out Of Your Rain Boots
Don't you love getting a new pair of rain boots to combat the wet weather? I do, too. Don't you hate when you open the box to your brand new rain boots and they smell like, uh, rubber. The rubber smell can be overwhelming and can even deter me from wearing my rain boots, which obviously defeats the purpose. Luckily, there's a way to fix it! 1. Dilute white vinegar with water. 2. Dampen a cloth or paper towel with the diluted solution. 3. Rub your rain boots all over. 4. Wipe dry with a clean cloth. Now, go stomp in those puddles with your non-smelly rain boots! Don't miss how to store jewelry using basic household items and shop these cute short rain boots that are perfect for summer!
Hate Rain Boots? That's Exactly Why Hunter Made Rubber Rain Sneakers
I've ruined more shoes than I care to count all for one simple reason: I hate rain boots. Yes, I have a pair of tall rubber Hunters, but I basically never wear them because in addition to being one of least comfortable pair of shoes I own, they're also freakin hot. On a day like today, I'd rather let me feet get drenched than put them in tall boots in 90 degree weather. I must not be alone, though, because Hunter just stepped up their weatherproof footwear game in a major way. How, you ask? Rain sneakers! Hunter Lace Up High Top Rain Sneakers ($295) Given the colors, they are oddly reminiscent of LEGOs or a Rubix cube, but no matter. They're leaps and bounds better than traditional rain boots and they'll keep your feet dry just the same. What do you think? Would you wear them? I'd totally rock this colorful pair, but I'm secretly hoping Hunter does them in solids, too. UPDATE: The good news? Turns out Hunter does indeed make their rubber rain sneakers in solid colors. The bad? They're low tops and kinda not as cool as the high tops. Still, a totally legit option if you really hate rain boots. Hunter Original Lo-Top Sneakers ($125) Don't miss Superga's new slip-ons and Mindy Kaling's Mara Hoffman maxi dress.
Rainy Summer Days Definitely Call For Cute Short Rain Boots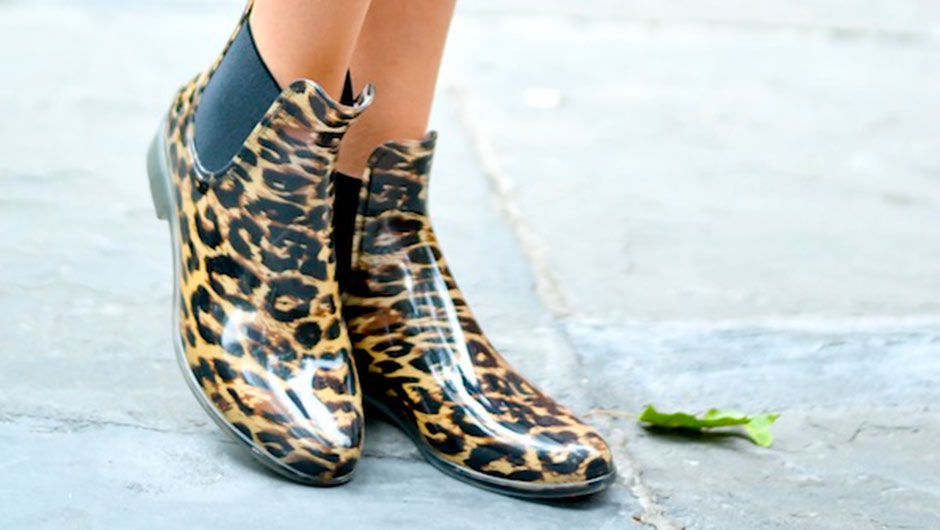 Rain Boots So Good You'll Want To Wear On Sunny Days, Too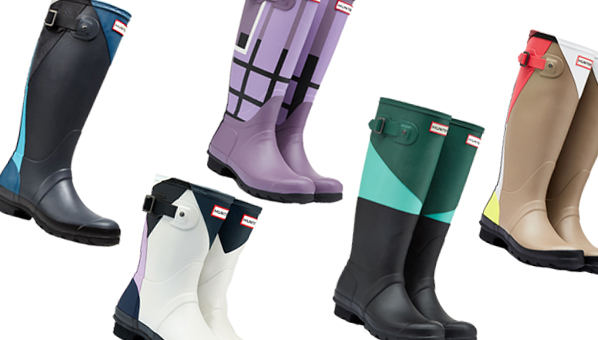 Shop These Printed Hunter Rain Boots Before Spring Showers Start
I Hate Rain Boots, But I'd Totally Rock These Rubber Bernardo Lace-Up Booties
Rain boots have definitely come a long way, but there still aren't that many stylish options. That's why I was so stoked to come across these Bernardo Lacey Rain Boots ($145). They're not just cute for rain boots, they're cute boots period. The laces definitely elevate the look and the small heel is totally practical in slick weather. Even better, there are 5 gorgeous colors to choose from. They were already written up in WWD and style bloggers are already starting to snap pics in them so we suggest you snag your pair ASAP. SHOP THE BERNARDO LACEY RAIN BOOTS NOW Be sure to check out Kristin Cavallari's booties on sale, plus pretty rose gold jewelry.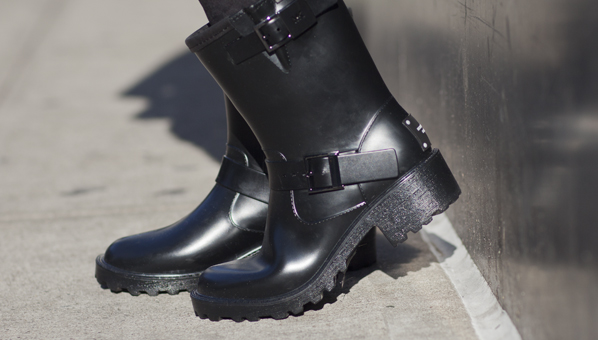 My Winter Boot Hack: Buy Moto Rain Boots Instead
I know that winter boots are more about function than fashion, but do they have to be so GD ugly? Seriously! I am a fan of wearing the same pair of shoes all day and not having to awkwardly change in to a second pair at my desk, but does anyone really want to walk around the office in Sorel Joan of Arctics or duck boots? No, they don't. So you end up wearing them to work then immediately changing, or just feeling too lazy to do that and wearing regular boots and ruining them in the snow. And since I'm not trekking in the backwoods of Alaska, so do I really need my shoe to have "vulcanized rubber" or be "seam sealed"? Nah. Just keep the snow out of my toes and we're good. I own a pair of Sorels and never wear them (total waste of $150) but this year I decided I would spend more money to replace them with a pair I'd actually wear instead of continuing to ruin sneakers and leather boots in water puddles and snow piles. Here's what I landed on and I could NOT be happier with them: Michael Michael Kors Devenport Rain Bootie which are now $75 down from $225 at Neiman Marcus' Last Call sale. They are super cool (see above) and I actually wear them not only in the snow/on my commute, but once I get to office I keep them on all day. It's been liberating. Get a pair for yourself: Michael Michael Kors Devenport Rain Bootie ($75, down from $225)
18 Winter Boots That Don't Look Anything Like Winter Boots
See something in common with the winter boots that everyone wants? For some reason, our trusty winter boots seem to always feel ten times heavier on our feet with weatherproof materials and wide-toe designs. There's a few of us out there who would rather wear winter boots that, well, don't look like winter boots. Luckily, a few designers heard our plea and created leather, suede, and rubber boots that are both flatteringly narrow at the toe and weatherproof. Check out our slideshow to see which pair you'll want to wear for the next snowfall. [Photo: Kelly in the City] Don't forget to check out: how to wear a beanie, how to wear leggings at work, and 19 fashion and beauty hacks for winter.
The Hunter Boots Sale Is Still Going Strong–Grab A Pair For 40% Off
Hunter has been running one of the best sales of the year--30-40% off their iconic wellington boots--since early December. It's some sort of Christmas miracle that they haven't run out of boots yet, but we're thanking our lucky stars (or Santa?) that they've still got Original Packable Tour Rain Boots ($104, down from $148), Original Clear Leg Wellington Boots ($125, down from $250), Original Stripe Wellington Boots ($115, down from $160) Original Scuba Eyelet Wellington Boots ($154, down from $225) and many more styles in a variety of colors and sizes.  SHOP THE HUNTER BOOTS SALE NOW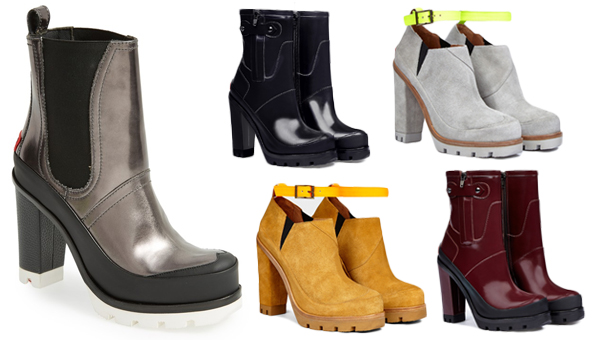 Hunter Just Changed The Rain Boot Game YET AGAIN With These High-Heeled Ones
Hunter is not one to rest on their laurels, so to speak. Even though their classic Wellies are a bestseller and have been for many years, they continue to break the rain boot mold--with a travel-friendly roll-up version, then a very cool collab with Rag & Bone. Today they are changing the rain boot game--yet again--with their first-ever high-heel rain boots that just launched online:  The Hunter Original High Heel Chelsea Rain Boots ($325) are incredibly on-trend--with the lug sole (they kind of look like Alexander Wang booties). I love the multi-color soles and the elastic Chelsea boot upper. The Hunter website has more color combinations in the Chelsea (as well as a cool cracked leather one), high-heel versions of their original leather boots, and a pair of ankle-strap boots that have this editor's name written all over them. Shop now.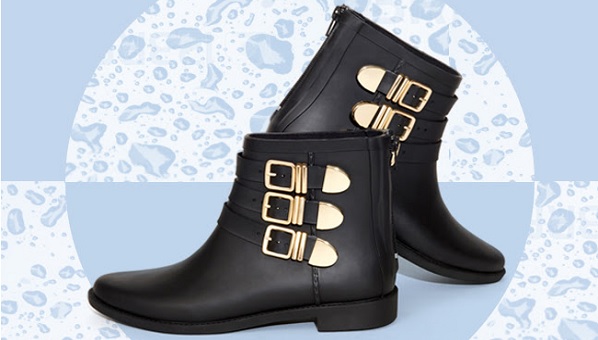 We're Calling It Now–Loeffler Randall's New Fenton Rain Boots Are Going To Sell Out
Loeffler Randall has had the rain boots market on lock for years now. For a while their sliver wedge rain boots were the only stylish waterproof option for women looking to keep their feet dry without resorting to horrific plastic galoshes, but not anymore. Loeffler just introduced a brand new rain boot and these are even better than the wedges. Check them out! Loeffler Randall Fenton Boots ($195) Now if you're a Loeffler diehard, you already know these are inspired by their wildly popular Fenton Buckle Booties. Except, of course, that these are rubber so you can wear them in the snow and rain without worrying about ruining them. Loves it! When Loeffler Randall first debuted their wedge rain boots, they sold out insanely fast so we have no doubt the same will happen with these. If you like them, you'd better order yours ASAP. Be sure to check out the Mansur Gavriel trunk show, Kristin Cavallari's leopard heels and 28 fashion sneakers. [Photo: Loeffler Randall]
Don't Make The Same Mistake Twice: Get Yourself Rain Boots & Cutoffs For Gov Ball
We're basically smack dab in the middle of music festival season right now. Ultra and Coachella already happened, but there's still Bonnaroo, Glastonbury (for all you international peeps) and this weekend's Governors Ball. In case you forgot what went down last year at this event, here's a refresher: Tropical Storm Andrea decided to ambush New York City with heavy rain and flash-flood warnings. The weather was so bad Friday night that headlining acts Kings of Leon and Pretty Lights had to cancel their closing sets "due to high winds and unsafe stage conditions," a statement from the festival said. But just like life, the beat goes on, and the rain-soaked venue didn't stop concertgoers from seeing their favorite performers the rest of the weekend. They just threw on denim cutoffs and rain boots to fight off the insane mud on Randalls Island. We know the bad weather is kind of what makes these 3-day festivals, but we still think you should be prepared. The forecast might not predict wet weather now, but who knows what can change in the next few days. Plus, even if you're not going to see Outkast or Disclosure this weekend, you should still get yourself a good pair of rain boots and cutoffs for any festival you might be hitting up this summer. Celebs like Gwyneth Paltrow and Kate Moss have been doing it for years, and now it's your turn. Click the slideshow to see our picks! For more festival style, check out: 9 places to shop online for your next music festival, the best cutoffs from Coachella 2014 and how to stand out at your next house music festival [Photo: Splash News] Don't Make The Same Mistake Twice: Get Yourself Rain Boots & Cutoffs For Gov Ball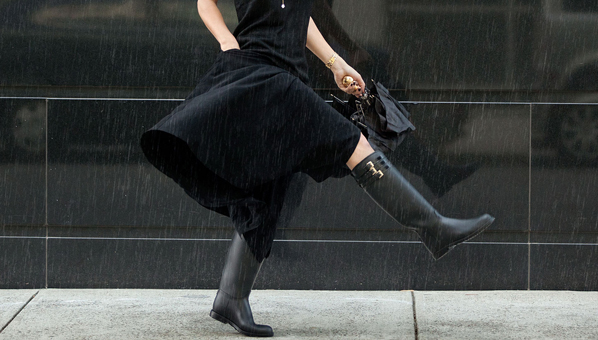 Umbrellas, Boots & Jackets That Will Make Spring Rainy Days Somewhat Bareable
Now that we've FINALLY switched our scarves and beanies for a pair of sunglasses (peace out, SADD!), let's not forget that spring means tons and tons of rains showers (even after April). A day of rain, like today in NYC, can be a total drag. So why not spruce things up with a brightly colored parka, printed umbrella, or a stylish set of rain boots? (We are loving the marble-print pair from Hunter.) Not only will you be protecting yourself from the elements, but you'll be looking good while doing it. And hey, you just might cheer someone else up along the way, most likely as they carry a plain, solid-colored umbrella that's half broken and a pair of soaking wet shoes. Check out our slideshow to see if there's anything that catches your eye for when it starts to downpour. Check out more stories: how to wear a denim jacket, springtime accessories, and how to supersize your closet. [Photo: The Glamourai]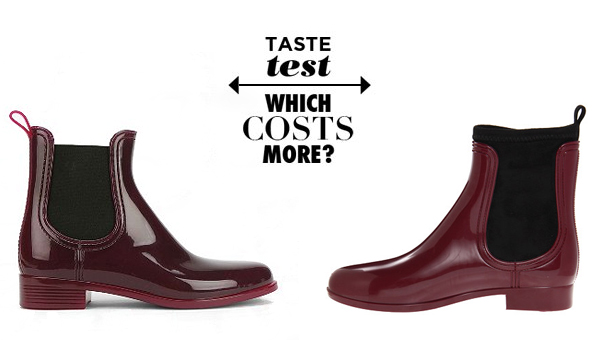 Can You Tell Which Rain Boots Are DVF And Which Are Knock-Offs?
While we love to have a traditional rain boot that's perfect for rain puddle jumping and playing in 6-inch snow, there's those bad-weather moments where we couldn't be bothered. We got places to go! Errands to run! A small office space that probably won't fit another pair of shoes, especially a knee-high wellie! What we need is a weather-resistant boot that's lightweight and stylish enough so you can also wear it indoors. And what type of boot never goes out of style? The Chelsea boot. So luckily a few designers decided to create their own in sleek and glossy rubber. We especially love it in a rich wine-inspired color. Which rain boot do you think costs more than the other? Answer: The rain boot on the left is the Jeffrey Campbell Forecast Rain Boot ($70) and the one on the right is the Diane von Furstenberg Rain Boot ($89.99, down from $150). Sure, the prices aren't too much of a difference, especially with the DVF boots on sale, but $20 is still enough to treat yourself to something extra, whether it's a few lunches that don't involve dinner leftovers or some beauty products you've been meaning to try. Which boot do you like more? Let us know in the comments below! Check out more Taste Tests: Baroque-print dresses, silver jeans, and over-the-knee boots.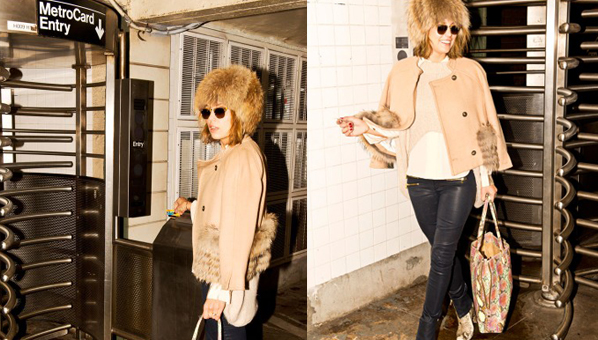 The Pretty Girl's Guide To Commuting: How To Look Good When You Get To Work
To quote Game of Thrones, "Winter Is Coming." The freezing temps, the snow, the sleet, the rain, and salt-ridden sidewalks. Yes, you'll have to face these weather challenges head-on soon, especially during your daily commute. And what's worse than showing up to work and the back of your favorite black slacks are covered with slush? If facing these winter trials are brand new to you, or if you're looking to step up your warm layer game, then read on. We've gathered a few tips and tricks on how to dress appropriately (while still sporting a stylish outfit under all of those layers) during the inevitable cold weather. Click the slideshow to find out how to good when you commute. Have more tips on dressing for your cold weather commute? Share them in the comments section below! For more tips, check out: boots to wear based on the weather, everything you need to know about Isabel Marant x H&M and 10 ways you're making your skin worse [Photo Credit: The Glamouri]
Checked The Forecast Today? Al Roker Says You Need Some New Rain Boots.
After going through the stress of getting a Halloween costume (or costumes) and making plans, we found out that it's supposed to rain all weekend. #Halloweenfail. But to make sure our feet stay dry and our outfits aren't ruined, we rounded up some rain boots just for you. And the best part about these is that they don't look like typical rain boots, aka they're not ugly. We even have some real boots in our closets that look just like these. There's tall sleek riding boots, short studded moto ones and even a shiny ombre pair that is making us re-think the faded color trend (no joke). So like we said, there's no better time to get rain boots then right now. Better to be prepared than a soaking wet Miley Cyrus on Halloween! Click the slideshow to shop rain boots now! And don't forget to check out: Zoe Kravitz'z leopard flats are 60% off, Macy's boot sale and the comfiest winter coats ever [Photo Credit: Natalie Off Duty]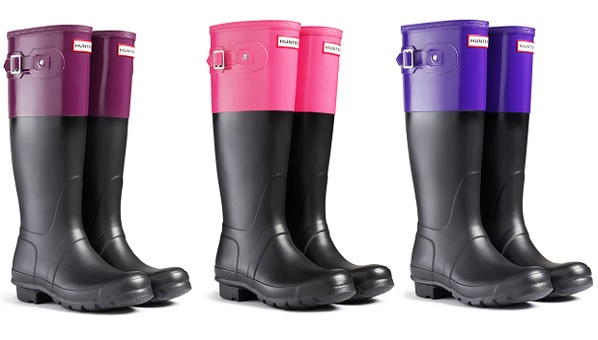 I Hate Rain Boots, But I'm Kind Of Obsessed With These Colorblock Hunter Boots
When it rains, I usually decide which pair of shoes I hate so I can ruin them in the nasty wet weather. Yes, I hate rain boots that much. They're like rubber ovens around my feet and legs and they usually have an unbearably bad smell to them. All that being said, I can't help but obsess over these new colorblock Hunter rain boots. They're the perfect dose of color without having to commit to a knee-high bright pink boot and of course, they keep your feet clean and dry. I've pretty much decided I have to have a pair, but what color? Click through the slideshow to see all the pretty combos. GET YOUR COLORBLOCK HUNTER BOOTS NOW Don't miss the Isabel Marant boots celebs love, Barbie's new Coach wardrobe and fall's illusion booties.
How To Look Put-Together On A Rainy Day
I always feel like I look like a drowned rat on rainy days. I never seem to wear the right jacket or shoes--and don't even get me started on my hair. And even though it's pouring out, there's always that one girl gracefully dodging puddles in her cute rain boots and perfectly fitted trench coat. After several days of showing up to work looking like I got lost in the Amazon rainforest during my commute, I decided I wanted to make summer rain storms my bitch. Here are the rainy day survival tricks I've learned so far: Wear water proof makeup. If the weather forecast says rain, reach for your waterproof mascara in the morning. You never know when you'll get caught in downpour or splashed in the face (seriously). Unless you are under the age of 10, multi-colored rain boots are not acceptable. I don't care who makes them. Invest in a pair of classic, black rain boots--preferably ones that look like regular boots. I love this pair by Burberry ($275) because they a) don't even look like they are made out of plastic and b) will go with whatever outfit you already have planned. Pick up a bottle of anti-humidity spray. Kate Middleton is the only woman in the world that can pull off frizzy hair. Swing by Sephora and get yourself a bottle of Bamboo Smooth Kendi Oil Dry Oil Mist ($35). Trust me, it's worth it. A belted trench always looks classy. It's almost impossible to go wrong with a classic beige trench coat. Opt for one with a cinched waisted for a more fitted look. Bonus points if you find one with a hood. Plastic ponchos are only okay if you are a tourist at Disney world. Unless your trapped at Epcot in the middle of a torrential downpour, don't even think about touching a plastic poncho. In order to help you follow these rules, I rounded up the best boots, umbrellas and rain jackets for surviving this miserable weather (and looking good at the same time). Flip through the slideshow to check out my rainy day picks. And for sunny days, check out these classic-style sunglasses, pastel sunnies and our guide to the best sunglasses.
Make Rainy Days Suck A Little Less With These Cool, Colorful Wet Weather Essentials
April is right around the corner, which means spring is a whole lot closer... but also that there are lots of rainy days to come. Now before you bust the seasonal depression meds, why not try some cool, colorful rain gear instead? There's nothing like a bright pink trench to pick you up on a rainy day, right? Between this season's PVC trend (which is totally waterproof!) and the ever expanding selection of sleek rain boots, there's no reason you can't channel your excitement for the new season by treating yourself to some wet weather investment pieces. Designers like Valentino and Milly make awesome clear trench coats, while labels like Dolce & Gabbana and Christian Louboutin make waterproof PVC handbags to keep all your belongings dry. Click through the slideshow to shop just a few of our favorite rainy day essentials that are guaranteed to make any grey day a little brighter. Be sure to hit up this J. Crew sale, plus shop Kate Middleton's Stuart Weitzman boots on sale and cool sneakers. [Photo: Atlantic Pacific]
Matthew Williamson Teams With Havaianas, But Not On A Pair Of Flip Flops
British fashion designer Matthew Williamson is no stranger to collaborations - in 2009, his collaboration with H&M was one for the books and just last year he teamed with Macy's for a limited-edition capsule - but this time he's joining forces with the south. Well, sort of: Williamson has created two pairs of brightly colored (I'm talking turquoise-green and peacock-patterned) pairs of rain boots in conjunction with Brazilian footwear brand Havaianas' 50th anniversary for fall 2012. Did I mention they're ah-dorable? "I'm drawn to the way Havaianas capture playfulness and light-heartedness in their products - there is clearly an element of fun," the designer told Vogue UK. "I wanted to embrace this sensibility in the rain boots and so chose prints that were whimsical without being kitsch." While Havaianas might be best known for the wear-with-anything flip flops, Williamson said he's practically an expert in guarding off the rain. Besides, a girl can always use an extra pair of rain boots, especially peacock-patterned ones! Both pairs retail for $134.66. Want more footwear news? Read up on which seven shoes every woman should have in her closet, the most stylish rain boots to keep you dry, or DSW's newest Disney princess collaboration!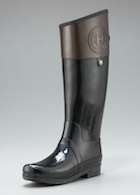 Can You Tell Which Equestrian-Style Rain Boots Cost $200 More?
The Hunter Two-Tone Riding Rain Boot on the left costs $195, $200 less than the Burberry Rubber Wellington Boots on the right ($395). Shop our guides to the best rain gear, stylish rain boots, and embellished Hunter rain boots.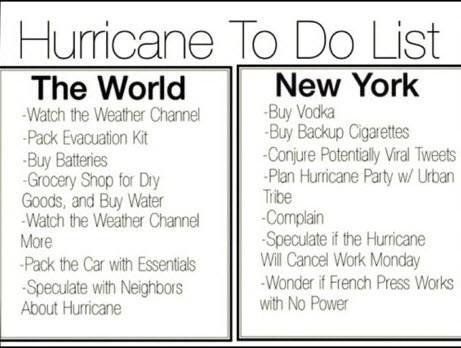 Add These To Your Hurricane Survival Kit, Stat. Tall, Stylish Rain Boots On Sale!
Is it bad this list is actually pretty accurate? [via Be Better Blog] Ok, so maybe we're being irrational, but it's a fact you will need a pair of rain boots to combat Hurricane Irene, so you might as well get a pair that are a) on sale and b) stylish. Who needs a pair of frumpy rain boots? Not you. Order them today from the Zappos sale and they'll be delivered before the storm. Shipping's free! Precautions, people. Check out our top 5 picks to go with your vodka-fueled complaining fest. (more…)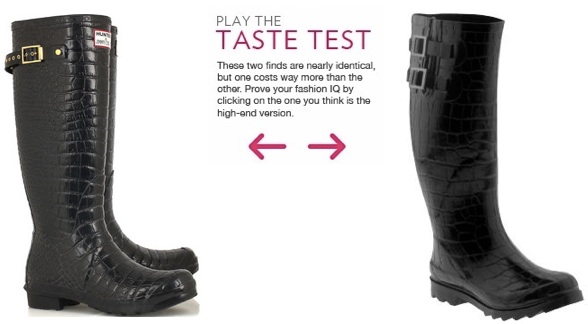 Can You Tell Which Pair Of Black Crocodile-Print Rain Boots Costs $375 More Than The Other One?
Answer: The black crocodile-print rain boots at left by Jimmy Choo for Hunter ($425) cost $375 more than the Chooka Croco Dual Buckle boots at right ($49.99). Keep yourself guessing with all of our Taste Tests, and join our e-mail list for exclusive updates.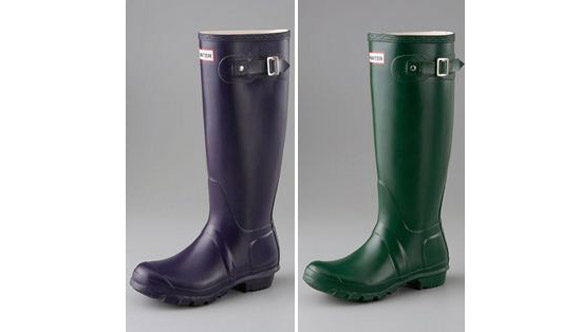 Rain On The Forecast? Don't Panic, Just Pack Your Hunter Wedding Wellies
Living by the weather forecast for your upcoming wedding? Even if rain is a possibility, the old-fashioned look of original Hunter rain boots ($125) somehow go adorably well with wedding garb -- and make for an amazing outdoor wedding photo accessory. These reliable, all-weather boots now come in so many different colors and styles, you can easily outfit everyone in your bridal party. Bonus: Your special pair will bring back happy memories every time you wear them in the rain after the big day. Get more outdoor wedding must-haves in our guides on outdoor wedding dresses, wedding shrugs and wraps, and eco-friendly wedding favors.
Rain Boots Stylish Enough To Wear To Work In The Summer
According to the Farmer's Almanac, this is not the first rain shower of the summer--it's going to be raining a LOT. Which means if you haven't already been swayed by the rain boot gods to buy a pair, this is your chance. Already got a pair? We've got lightweight trench coats and umbrellas, too--and it's all on sale. Aren't you glad you waited? (more…)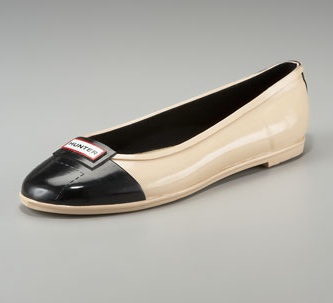 These Hunter Rain Flats Look Suspiciously Similar To These Marc Jacobs Ballet Flats
From left: the Hunter flats ($98) and the Marc by Marc Jacobs flats ($158.94, down from $195) Hunter (the infamous rain boot company) came out with a line of water-resistant ballet flats that look eerily similar to these Marc by Marc Jacobs flats (right).  But let's address matters one at a time: Hunter makes ballet flat rain shoes?! When did this happen? Well, we must have been living under a rock, because apparently they've also come out with really adorable Hunter Boat Shoes, too. But onto the next point, their waterproof ballet flats look strikingly similar to these Marc by Marc Jacobs flats, which happen to be on sale here at Endless.com (Get 'em while they're hot, though---a little birdie tells us there are only 2 left in stock). But copycats aside, both shoes are well under $200, so why not just buy both and use them interchangeably pending the weather forecast? Shop these, and two other styles of Hunter flats right here at Bloomingdale's. Be sure to check out all of our posts on Rain Boots, as well as our buying guides on Stylish Rain Boots and the Best Rain Gear.
Stylish Umbrellas: Like A Spoonful Of Sugar For Rainy Days
Now here's something Mary Poppins would surely endorse. Get yourself a cute umbrella--you'll instantly make rainy days more bearable, and then you can finally stop lugging around that old broken one. This month's incessant showers should be very afraid. We make it easy for you, just click the thumbnails to shop. (more…)
It's Going To Rain A Lot This Summer: Time For You To Grab Some New Rain Boots
April showers might bring May flowers, but according to the weather reports throughout summer, the only thing they're bringing are more rain storms. So don't ruin your new spring wedges--invest in a pair of quality rain boots like Hunter rain boots or these Loeffler Randall rain booties. If you don't know which ones are right for you, consult our Rain Boot Buying Guide - you can thank us later. Need help shopping online? Take a look at all of our buying guides & don't forget to sign up for our newsletter.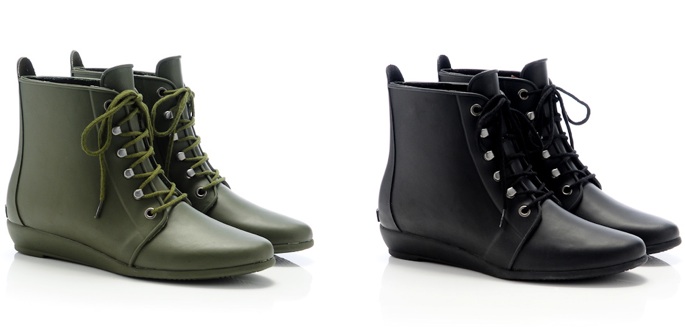 April Showers Got You Down? Introducing: Loeffler Randall Rain Booties (Now On Sale)
Loeffler Randall Rain Booties, $145, down from $165. If this week's bout of rainy weather had you as depressed as we were, worry not: we found the antidote: the rain bootie. We've been lusting after the above style by Loeffler Randall--and it's finally on sale!  But these shoes got us to thinking: what other kinds of rain boots make us a little less depressed about spring showers? It's all about the bootie! Part utilitarian, part fashion statement, there's something about these little kicks that don't damper your style. Check out some of our other favorites below (and guess what? They're all on sale!): (more…)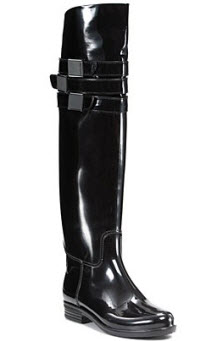 Spring's Forecast = Rain. These Stylish Rain Boots Are Up To 50% Off (!)
Don't get caught with a frumpy pair of rain boots--or worse, without them at all. At Bloomingdale's, you can get them on sale. Try these sexy over the knee Calvin Klein Ava rain boots ($83 from $119), or these Steve Madden 'Tsunami' boots ($63 from $79). (more…)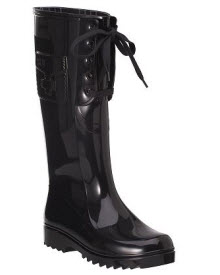 Your Hair Might Look Horrendous, But Hunter Rain Boots Are 50% Off. #SilverLining
See, there's really an upside to everything. Rainy days wash away pretty hairstyles, good moods, and most makeup, but you can also spend all day in a pair of Hunter rain boots without anyone really caring. Jildor's 50% off winter sale has tons of stylish rain boots to choose from. Take. your. pick. More awesome sales: Neiman Marcus's Final Call sale (code WINTER) 50% off shoes at Piperlime Vena Cava at Bloomingdale's 30% Off Madewell For more, check out our guide to the best stylish rain boots, skinny jeans and blazers (my favorite rainy day look), plus all of this week's hand-picked sales and deals and upcoming online sample sales. Follow the author of this post on Twitter @shefindseileen.
The 10 Best Martin Luther King Jr. Day Sales From Around The Web
Whether you've got the day off today or you're at work, retailers are celebrating Martin Luther King Jr. Day with tons of sales. We've rounded up the 10 sales you shouldn't miss -- so hurry and take advantage! 1. Up to 70% off at Shopbop This Cynthia Vincent coat is the perfect investment--it looks cool with a belt, or open, and can easily be dressed up or down, layered or not. The choice is yours ($212, from $430). 2. 70% off at The Outnet Get a load of this Isabel Marant turquoise necklace--not only does it look great with everything - it's also marked down to $182, from $365. 3. Zappos: Up to 50% off Step in puddles and slush without a care--these Tretorn waterproof rain boots are stylish and completely waterproof ($63, from $80). 4. 70% off at Reiss I can't get over the price of this Reiss leopard print jacket--$87, marked down from $475. Pair it with skinny jeans and heels and you've got yourself a sexy look. 5. Up to 65% off at Bloomingdale's This Aqua sequin-detail shirt is perfect for tucking into skirts or wearing with leggings or skinny jeans ($52, from $88). 6. Piperlime: 65% off the Tag Sale It's rare to find a pair of jeans that fit in a flattering way without busting your budget. Well, William Rast is to the rescue: this pair of denim leggings gets great customer ratings and is only $69.97, from $175. 7. Endless: 50% off boots, handbags and more Our intern Brittany rocks these Kelsi Dagger boots like no other with white jeans and an oversize sweater--now you can get the same pair for $79.50, from $149.95. 8. 30% off at Nordstrom Treat yourself to a Marc by Marc Jacobs tote that'll brighten up even the chilliest winter days ($104.90, from $158) 9. 50% off dresses and more at ASOS This gorgeous beaded halter neck dress is perfect for cocktail parties, and all of the events coming up this spring, from bridal showers to big dates ($94, from $163). 10. Up to 70% off at Saks Leave your plain old black clutch behind - this Tory Burch croc-embossed clutch in punchy magenta is party ready + free shipping on orders over $100 with code JANSFA. ($254.99, from $365). Check out all of our favorite sales, today's online sample sales and all of our best find of the day picks. Follow the author of this post on Twitter @shefindseileen.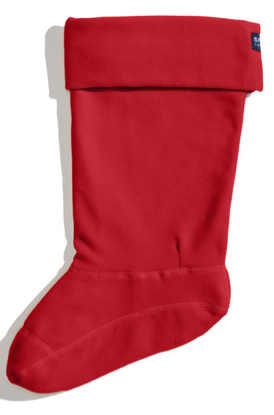 5 Ways To Winterize Your Wardrobe Without Spending A Small Fortune
There might be snow on the ground, but that's no excuse to leave your summer dress and rain boots to collect dust. Between boot liners and fur scarves, we can now turn our go-to summer staples into year round outfits. So what are you waiting for? It's time to pimp out your warm weather wardrobe with these affordable style converters: 1. Transform Your Rain Boots Into Winter Boots: Slip these cozy Sperry Top-Sider Rain Boot Sock Liners ($24.95) into your favorite rain boots to turn them into lined winter boots and to keep feet toasty. 2. Keep Legs Warms, Even On Skirt Days: Inside of boring knee socks, try adding a stylishly warm finish to any dress with a pair of DKNY Hosiery Pointelle Boot Toppers ($22).They hug your legs from the ankle up in sweet pointelle. 3. Weather-ize Your UGGs: Don't let your UGGs fear the snow with this UGG® Australia's Sheepskin Stain and Water Repellent spray ($8) that protect your boots (and clogs) from any unwanted weather. 4. Add An Instant Fur Collar For Any Coat: There's a chance you might actually enjoy the cold while wearing this Shopbop Basics' Faux Fur Neck Warmer ($78). This fully lined stole works under ever coat. 6. Wear Moisturizing Leggings Under Your Jeans Since we hate how dry our legs get in the winter, thanks to these mango butter and almond oil Lytess Micro Massaging Lift Leggings ($110), which layer under pants, we can have smooth legs all day. Jonesing for more winter ideas? Shop more accessories including rain boots, leggings and more. Sign up for SHEFindsMail for exclusive SHEFinds news.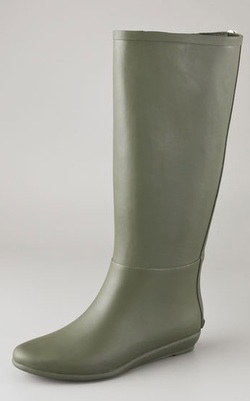 Going Going Gone: Only 3 Sizes Of Loeffler Randall Rain Boots Left
If you need winter or all-weather boots - and we know you do right now - why not opt for a pair of rain boots (cheaper than winter boots) and then put a warm fleece liner inside? If you like this idea, make a move on it today because there are only 3 sizes of these Loeffler Randall Back Zip Rubber Rain Boots ($195) left. We featured the boots on our Holiday Sold-Out list, and they continue to be hot sellers after Christmas and into the New Year. Grab a pair of these army green wedge boots today and you'll be equipped for all those slush puddles and inclement weather of January. Check out our guides to the best stylish rain boots and winter boots, then see all of our sales and deals, online sample sales, and best find of the day picks, too. Follow the author of this post on Twitter @bridefinds.
Going Going Gone: Only 1 Pair Of Quilted Hunter Boots Left
You know we're all about stylish rain boots and not-fugly winter boots here, so you can imagine our delight to find these Hunter Boots Regent Savoy Quilted Glossy Boots ($175) at Shopbop. The quilted black boots are so refined - they don't even belong in the same class as most of the rain boots we've seen. So, it's no wonder everyone and their mother has bought a pair. Shopbop is down to only 1 pair of 7's - so move fast. See our guide to more stylish rain boots, over the knee boots, leopard print shoes and clogs for the fall season. Sign up for SHEFindsMail and received exclusive e-mail updates. Follow the author of this post on Twitter @bridefinds.
Can You Tell Which Lace-Up Rain Boots Cost Twice As Much As The Others?
Keep guessing with all of our Taste Tests. Shop our guides to the best flat boots and the best high heeled boots. Sign up for the SHEFinds newsletter to receive exclusive sales and deals, plus the most updated fashion news.