The Only Strapless Bra You Need
I have a love-hate relationship with strapless bras–don't you? It's like, we really need them to wear our favorite dresses and tops–but they can be so uncomfortable and awkward at times. Like when you have that underarm fat spillage, or when you can see the top line of the bra through silk tops. Or when they start slipping down your torso as the day goes on… It's tricky! Like any bra situation, getting the "right" size can either mean not enough support (aka, saggy boobies) or the right amount of support, but back fat and spillage (as Kris Jenner told Kim on Keeping Up, "You have to pick your battles.")
I've spent my adult life dedicated to finding the perfect one (jk, I've done other stuff, too). And here it is…. drumroll please… Victoria's Secret's Very Sexy Multi Way Bra ($55):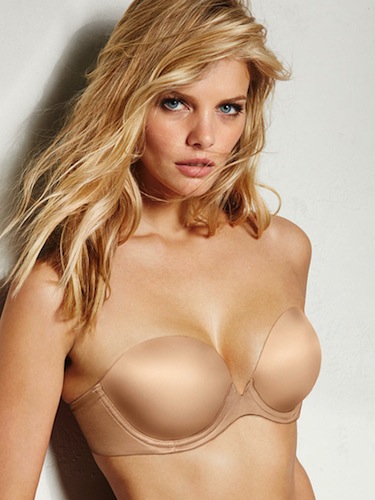 Why is it so good? For one, it has a plunge neckline so you can wear it with halter tops and deep V necks in addition to strapless styles. Secondly, it's not too suffocating–I have other strapless bras that feel like I'm trying to tape down my boobs. This style lets your girls be–it is not too tight at all.
Also, it's a push-up and padded bra, so it's good for flat-chested girls (to be honest, I'm an A-cup–but my BFF whose a D also loves this style). Also, their nude is the perfect nude color–it's not too light or cream-colored that you can see it through white shirts–it's sort of a dark nude and it has a sheen to it that makes it looks almost sexy for a nude bra. (Nude underwear can be almost medical-looking something–this is not at all).
It also comes with all the straps/attachments to convert it to a regular or one-shoulder bra (I've never used them, but seems like a good idea). It's smooth under clothing and has a small/narrow side of the bra so you don't get crazy arm/back fat. It's just the best!!! Are you convinced yet? Get one now.
(And obviously, bras can be a personal thing–my boss is obsessed with this Aerie Audrey bra.)
[Photo: Ania B]
SheFinds receives commissions for purchases made through the links in this post.