I'll start by saying that I am a total homebody. So much so that my #1 New Year's resolution this year was to "do more stuff outside the house." We're already two months into the year and I have to admit: it's not going well.
But it's not totally my fault! I was all geared up to do things this year and then the peeps at Riley Home were like, "Hey, you wanna try our bedding?" My inner homebody immediately obliged and it wasn't long before it was clear that all hope was lost for my resolution. You see, the Riley Home comforter and duvet cover are so good that I basically never want to leave my bed.
I should mention here that I wasn't at all unhappy with my previous duvet and duvet cover. They were great (and not cheap, I might add!). But now that I've been sleeping on Riley Home bedding for a few weeks, my bed feels so much more luxurious. Riley's bedding is crafted on family-owned textile mills in Portugal and it definitely shows. The quality is incredible. The duvet cover has a slight sheen to it and it's amazingly soft. I've already washed it once and shockingly, the duvet cover felt even softer after a cycle in the washing machine and dryer.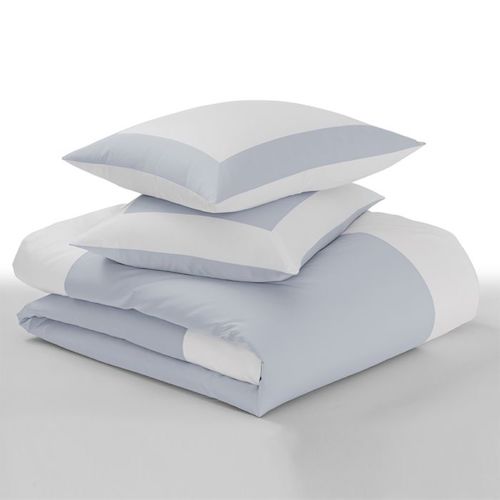 Color Block Duvet Cover and Shams Set ($259-309)
As for the duvet itself, I couldn't be more impressed. It really is the perfect weight–not too heavy, but it definitely keeps me nice and toasty on cold NYC nights. And my daughter loves how fluffy it is.
Down Alternative Comforter ($129-$299)
If you're like most people, you invest in bedding once and then rarely ever thinking about replacing it. But you're doing it all wrong. Right now is actually the perfect time to give your bed an upgrade. You can't buy clothes or shoes because we're in between seasons, so splurging on new bedding is the perfect alternative.
In addition to the duvet and duvet cover which I love, Riley Home also offers crazy soft sheets, pretty blankets and throws, comfy pillows and even bathrobes… it's basically a homebody's heaven. If your bedroom could use a mini makeover, head over to Riley Home ASAP to start shopping. You'll be really happy you did after your first night's sleep on their dreamy bedding.
SheFinds receives commissions for purchases made through the links in this post.