The world might not be ready for Christian Siriano for Payless's line of runway shoes, but they're here, and they're fierce. And instead of hating on them and saying they're not made for real women, let's reflect: it's kind of cool that Payless is the first mass retailer to sell actual runway shoes for just $79, isn't it?  Also, they look like Alexander McQueen's spring collection of curved armadillo heels, which makes them a snapshot of fashion history to own, even if you just look at them and sell them on Ebay in 40 years. Who knows, you might need them to walk on the moon someday. [Payless]
Get yours on Ebay now:
Christian Siriano for Payless All Done Up Mary Janes ($79.99)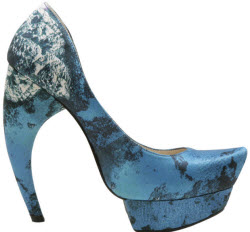 Christian Siriano for Payless Pointed Toe Printed Pump ($79.99)
Christian Siriano for Payless Cut Out Cuff Pump ($79.99)
Check out our roundup of 9 pairs of comfortable heels you can actually walk in, scoop up a great pair of thigh high boots, plus score yourself something amazing in our guides to the best sales and deals, and our favorite online sample sales.