Weekend Project: Make Your Own Hand Mask
Winter can be extremely rough on the skin. That's why it's so important to keep moisturized, and make sure to pay attention to those sensitive areas that may need a little extra TLC around this time. One being the hands since they are easily dried out by the cold temps, so you need to make sure to keep them hydrated properly. So go a step further then your trusted lotion and try an easy, homemade hand mask. It's really up to you on what type of mask that you want to make, but one of the most popular masks happens to be the potato hand mask as there are  so many recipes out there. But to make it all you really need is a few potatoes and some milk. Basically, all you have to do is peel the potatoes, boil them, and then mash them. Gradually add in some milk and you have your mask. When ready, coat your hands in the potato mask, and let it sit for around 10 to 15 minutes. You can even put your hands in plastic gloves to make sure you're adsorbing all the benefits, as this mask can help nourish the skin and help with skin discoloration such as dark spots. Then wash it off, and your done. Just make sure that you also follow up with some hydrating lotion afterwards. Be sure to check out how to make your own hydrating bath balm and how to make your own eye shadow! [Photo: Shutterstock]
Once And For All, Here's How To Keep Your Leggings From Turning See-Through
Now is the time to break out all of your favorite leggings, as they are the perfect outfit staple to rock to keep you warm in style. (Plus, they're just great for everything from working out to lounging around the house!) That's why so many of us will have them on rotation throughout the year. But the only bad thing about wearing your favorite leggings on repeat? Sometimes the fabric gets worn down after a number of washes leaving you with a pair that looks almost see-through. So what do you do to keep your leggings solid? Here are a few common methods to try to keep your leggings from turning sheer. 1.Start hand washing them. The best way to keep the material in your leggings from wearing down is to hand wash them. And if you're a little hesitant to do so, it really is super easy. You just need to fill up your sink with cold water. Add a small amount of detergent, and knead the cleaner into the leggings. Then, wash them out with more water until you don't see anymore suds. Hang your leggings out to dry, and that's it! 2.Wash on a gentle cycle. If you must wash your leggings in a washing machine, make sure that you are putting them on a delicate cycle, as other speeds can be way too harsh on the fabric. 3.Pair like with like. Don't just throw your leggings in with your other clothing. They need to be washed separately with like items, so go ahead and gather all of your leggings that are made out of the same materials together. This they won't rub against harsher fabrics that can break them down and cause wear and tear. 4.Change up your laundry detergent. Sometimes a simple change of cleaner can stop your leggings from turning sheer. Try switching up your laundry detergent with a gentler choice that will won't irritate the fabric of your leggings. Be sure to check out how to keep your coat lint-free and how to prevent your sweaters from pilling! [Photo: Shutterstock]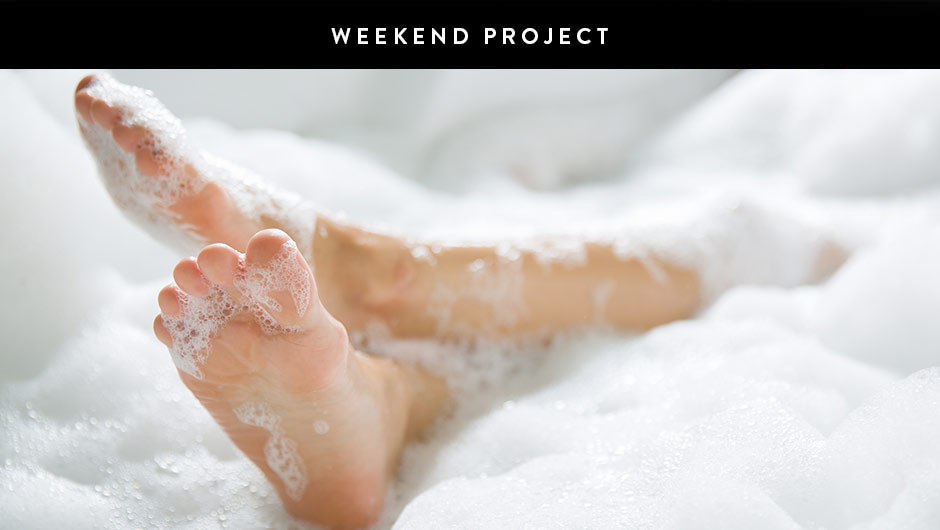 Weekend Project: Make Your Own Soothing, Hydrating Bath Bomb
Who doesn't love a relaxing soak in the tub? But picking up a soothing, bath balm to enjoy can get costly, and if you're like me, you need a super hydrating formula to moisturize your skin. So instead of searching the aisles for the perfect combo, try making your own. There are a few common ingredients that you need to make a bath balm. Add some baking soda, citric acid powder, Epsom salts, and corn starch to your shopping list. Some other ingredients that you'll need that you probably have around the house are essential oils, vegetable oil, food coloring, and water. You'll also need a mold to make the shape. There are tons of recipes out there to choose from for measurements. Once you pick one that fits your needs, mix together the dry ingredients.  In a separate bowl mix together the wet ingredients--a few tablespoons of each. Combine the wet ingredients gradually to the dry mix, stirring them together as you go. Then, put the sand-like mixture in the mold of your choosing. Take it out and let it dry in a cool place. And you've made your own DIY bath balm! The best part: you'll have enough ingredients to make them in bulk, so you won't have to buy bath balm for a long while. Plus, you can gift these as stocking stuffers. [Photo: Shutterstock]
Weekend Project: Make Your Own Hydrating Body Lotion
The one beauty product that you cannot brave the winter without? Lotion, of course! With the temperatures dropping everyday and the harsh winds picking up, winter can be rough on skin. So you have to keep hydrated all season long, which means buying tons of lotion. But if you're looking to save a few bucks, try making your own hydrating lotion at home. There are so many recipes out there. Though, you really only need a few products--namely, raw shea butter, coconut oil, vitamin E oil, and any essential oils that you want to add for scent and/or other nourishing qualities. Start off by putting the raw shea butter and the coconut oil into a double broiler. Once melted, add in your vitamin E oil and essential oils (sweet almond, jojoba, lavender, and grape seed oils are a few options that are ultra nourishing. Then put it in the freezer for a few minutes. After, mix it all together with a blender or by hand until whipped. Put it in a container, and you've made your very own hydrating lotion! [Photo: Shutterstock]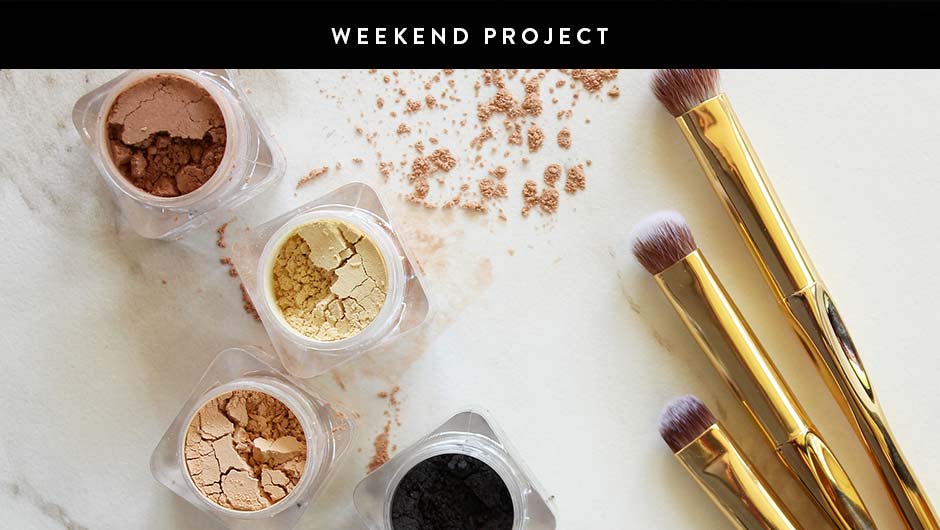 Weekend Project: Make Your Own Eyeshadow
Eyeshadow is one of those makeup musts that can transform a basic touch up into a statement look just like that! But keeping your makeup bag stocked with palettes that fit every occasion from casual to glam can be expensive. What if I were to tell you that there's a way you can have all the eyeshadow you want in the custom shades you desire for practically nothing? Well, you can! You simply just have to make it yourself, and it's super easy to do. You really only need two ingredients: cosmetic mica powder and a powder binder, which you can both be bought in bulk online and at some beauty supply store for the cost of what you're spending on that deluxe palette. Once you have the powders, it's time to apply some of that old color wheel knowledge that you learned way back when. Pick the shade that you want (There are tons of recipes out there!), and mix equal parts of the different powders in a bowl that create the color. Put the mixed powder into a small container such as a round lip balm jar. And that's it! But to get the solid finish that you normally see in store bought palettes, transfer the mixed powder to a small container. Add some drops or spray the powder binder to you mix. Grab a paper towel. Find a small object to press down with over the paper towel. Let it dry, and it's just as good as the store bought eyeshadow! [Photo: Shutterstock]
Weekend Project: Make Your Own Essential Oil Candle
Who doesn't love candles? They're great to have around and make any space smell amazing. Let's not forget aromatherapy! Your candle scent of choice can change your mood from stressed to relaxed in no time! Unfortunately, candles can be quite expensive. That's why you should consider making your own. Here's a few simple steps to make DIY essential oil candles. You only need a few ingredients for this project. Grab some beeswax or soy wax pellets, essential oils, and candle wicks, and some glass containers like mason jars. Pour some of the wax pellets in a glass container, and melt them down in the microwave. Keep filling the container with flakes and heating at minute intervals until fully melted. Make sure to keep a close watch! Next, drop in the essential oils in the melted wax for a custom scent.  Then place the wick in the middle of the glass container. Let it cool, and there you have it! There are tons of recipes out there for you to recreate, or you can keep experimenting on your own until you find your perfect scent combo. Have fun! [Photo: Shutterstock]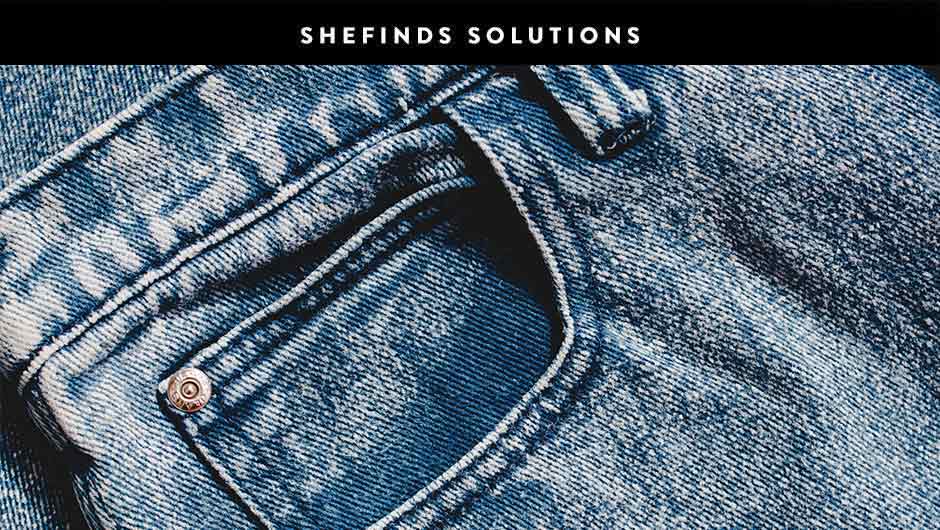 Once And For All, Here's How To Make Stiff Jeans Softer #SHEfindsSolutions
We all have jeans that we love. But the one problem that everyone faces with their fave denims is that sometimes those jeans can get a bit stiff. What do you do when that happens? Well, there are a lot of tricks out there to remedy the uncomfortable situation, and I've rounded of a few expert tricks to help you out. 1.Wash them often. If you've just invested in a new pair, try washing the jeans a couple of times before wearing to knock out the stiffness. 2.Use fabric softner. An easy thing that you may not be doing is making sure to wash with a good fabric softner. Seriously, don't skip out on this washing must-have! 3.Soak them in salt. Another method that's been popular is adding salt to your wash. Pour a cup into your regular cycle and wash as usual. It may take a few times before you see actual results. [Photo: Shutterstock]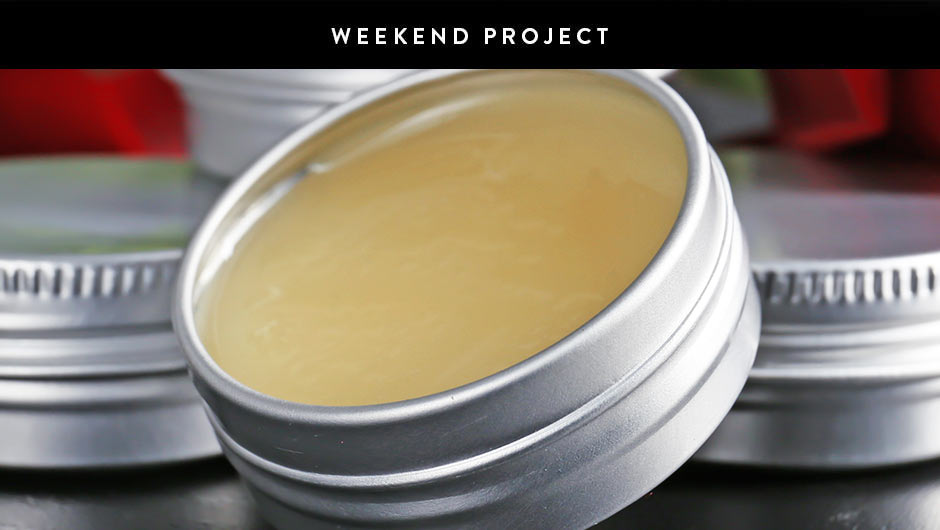 Weekend Project: Make Your Own Solid Perfume
Who doesn't love a few smell goods? I know I do! That little spritz of my signature scent always puts me in a good mood. But restocking your favorite perfumes can be quite costly--and difficult if you happened to grab a limited edition fragrance that's sold out. So what's a girl to do? Why not just make your own? Seriously! It's actually pretty easy to make solid perfume. What do you need? Pick up some beeswax pellets, an oil to use as your base like sweet almond or jojoba oil, and some scented essential oils of your choosing for the scent. To begin, pour a few tablespoons of beeswax pellets and almond oil in a glass container and boil in a sauce pan filled with a few inches of water. (You can also use a double broiler.) Once, it melts, add in about 10-15 drops of the essential oils for fragrance. Make sure to mix it really well. Then, pour the oil into a container of your choice. Let the mixture sit for about an hour to solidify. And you've made your own solid perfume! [Photo: Shutterstock]
Weekend Project: Make Your Own Cheek And Lip Stain (It's Super Easy!)
Who doesn't love a 2-for-1 deal, especially when it comes to makeup?! And if you can get the same quality of each in one product, I'm sold. Well, there are two beauty products that if you aren't already using in tandem, you really should think about using them as a combo--cheek and lip stains! But you don't have to spend money buying a packaged deal. It's actually pretty easy (and cheap!) to make your own. You only need a few ingredients--some you probably already have lying around the house! To make this mixture, grab some water, shea butter, and an oil such as olive oil, almond oil, or coconut oil to get started. Mix one or two teaspoons of each into a small container. Adjust the amounts if you want to make this in bulk. Then to make the color or stain, there are a few methods and ingredients that you can do. If you have fruits like raspberries, or pomegranates, you can mash them up and squeeze enough of the juice out to add into your mixture. Another way to get color is to pick up some beet root powder and just mix it in. There are tons of options available to help you get the perfect shade. Make sure everything is blended evenly, and there you have it: You've made your own cheek and lip stain! [Shutterstock]
4 DIY Remedies For Quick Hair Loss Fixes
Weekend Project: Make Your Own Makeup Remover (It Really Works!)
Taking off your makeup at the end of the day is a daunting task, but you have to do. Even so, scrubbing your face with facial wipes and/or bottles of cleansing remover water can be costly. But why keep spending money, when you can save a couple of bucks and make your own makeup removal serum right at home? It's actually really easy to do, and you only need two ingredients! On your next trip to the grocery store grab some extra virgin olive oil and some aloe vera water Aloe is a great agent to use for keeping skin healthy, and the oil will help breakdown the toughest of makeup like mascara and eyeliner. When you're ready to make your DIY remover, mix together a half cup or less of the EVOO with few cups of aloe vera water. Shake it up. And you've just made your own makeup removing formula. Just pour a small amount on a cotton pad, and wipe away makeup with ease. Make sure to follow up with your regular cleanser and lotion to keep skin moisturized. [Photo: Shutterstock]
Weekend Project: Make Your Own Cleansing Facial Wipes
Ever get tired of buying facial wipes? Of course, they're expensive! Though, you have to keep restocking them in your cabinets because you need them, especially if you're a makeup addict. But if you want to save some serious cash, try making your own cleansing facial wipes. It's actually pretty simple and easy to do. Start off by figuring out which material you want to work with. Depending on weather or not you want a reusable option or a more disposable item, pick the medium and cut the material (towel, wash cloths, cotton rounds, or paper towels) up into smaller strips. Next, make your own custom solution. For your base formula, all you need is boiled or distilled water, coconut oil, and a gentle cleanser like baby wash. Mix the water and add a few tablespoons of the coconut oil and your choice of cleanser. From there, you can personalize your solution and add in other ingredients such as essential oils or aloe to fit your specific skincare needs. Once you have your mix, soak your cut up strips in the solution, and you've made your very own cleansing facial wipes! Since you'll be making these in bulk, an empty mason jar is the perfect tool to store your wipes in. [Photo: Shutterstock]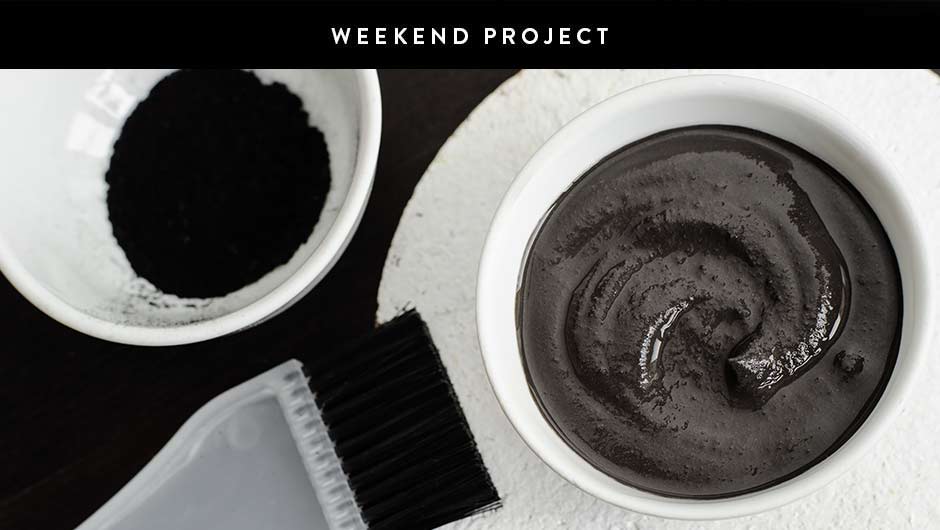 Weekend Project: Make Your Own Charcoal Face Mask
Who doesn't love a spa day? No one! And after a long week filled with work and other obligations, it's nice to step back, meditate, and get a little bit of pampering. So if you're looking to step up your self-care routine in a big way this weekend, try making your very own charcoal face mask. It's actually super easy! You only need to buy three ingredients to make a cleansing mask. What are they? Activated charcoal power, bentonite clay, and honey. Depending on the amount that you want to make, combine the same amount of activated charcoal and bentonite clay. Then add in equal parts water. Drop in some honey (try half the amount of the first two ingredients), and mix it all up. Voila! Your very own mask. But you don't have to stick to this mixture. There are tons of ways to get creative and alter your personal mask formula. Think about using aloe vera or apple cider vinegar in the mixture. You can also add in essential oils for scent and other nourishing benefits. Have fun! Be sure to check out how to make your own chemical free shampoo and how to make your own tinted lip balm.
Once And For All, Here's How To Remove Makeup From Your Shirt Collar Without Changing Your Shirt #SHEfindsSolutions
How many times have you almost walked out the door and noticed a little lipstick stain or a smudge of foundation on your shirt collar? I'm guessing the answer is a bunch. But that doesn't mean that you have to change your shirt. Here are a few simple ways to remove those annoying makeup stains that won't take up too much time. 1.Invest in a portable stain remover. If you looking for a quick way to get rid of the most minimal stain, try pulling out a stain removing pen. These handy little tools are lifesavers! Though, make sure you test out a small area to make sure that it will work for the stain and the fabric that you're wearing. 2.Use your everyday makeup pads. If you've dealing with a power foundation spill on your collar, a makeup pad may do the trick. Try to remove as much makeup as you can by dabbing a paper towel over the area or brushing away power with a clean makeup brush. (Make sure you don't smear.) Then gently pat the stained area, and repeat to remove as you would your daily makeup. 3.Pull out grease-fighting household items. Dish washing liquid such as Dawn is a great tool to fight oily makeup stains like lipstick. Start by trying to remove any excess makeup with a paper towel. Put a little bit of water on the stain and rub it in and let the soap do it's job. After about 10 minutes, grab a wash cloth and gently rub away the stain. While these tips may offer a fix for the moment, don't forget that throwing your shirt in the wash is the only way to make sure that the stain is really gone. Be sure to check out how to untwist elastic under fabric and how to remove long-wear lipstick. [Photo Damsel in Dior]
Weekend Project: How To Make Your Own Tinted Lip Balm
How many times have you purchased a super gorgeous lipstick, only to realize you probably will never wear it? I know that this happens to me all the time. Instead of letting it sit and collect dust or tossing it in the trash, there is another use for it! You ready for this? Turn it into a tinted lip balm! The color will be toned down a notch and your lips will be kissable as ever. Making your own tinted lip balm is surprisingly easy. Just take the lipstick you're going to use for the project, Vaseline (or any type of petroleum jelly) and coconut oil. Mix these ingredients together in any ratio you'd like. Color too light? Add a little more lipstick? Color still too bold? Add some more Vaseline. Super easy, right? And you just saved yourself the hassle of throwing a lipstick (and cash!) in the garbage. Be sure to check out DIY split-end repair and make your own texturizing sea salt spray.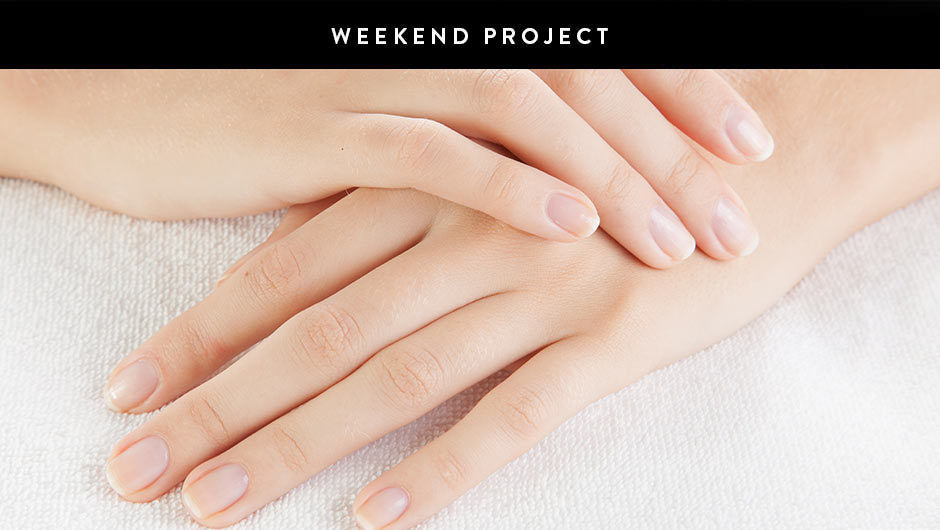 Weekend Project: Make Your Own Cuticle Moisturizer
Dry skin season is upon us, which means you should start taking extra care to ensure your skin stays super hydrated and glowy during the cooler months. One area of the body that gets dry so easily, yet we often neglect? Our cuticles. But as any nail expert will tell you, the key to a gorgeous manicure is soft, hydrated cuticles. One of the easiest ways to keep your cuticles moisturized so they never peel? Olive oil! Really! Simply take the olive oil you have in your kitchen and cover the cuticle surrounding your nails with it. Rub this in and you'll feel your cuticles instantly feeling soft and smooth. Leave this on for about 10-15 minutes so it can really soak in and then rinse gently with warm water. Repeat this a few times a week for maximum hydration. It's that easy! Be sure to check out how to make your own detox tea and how to make your own texturizing sea salt spray.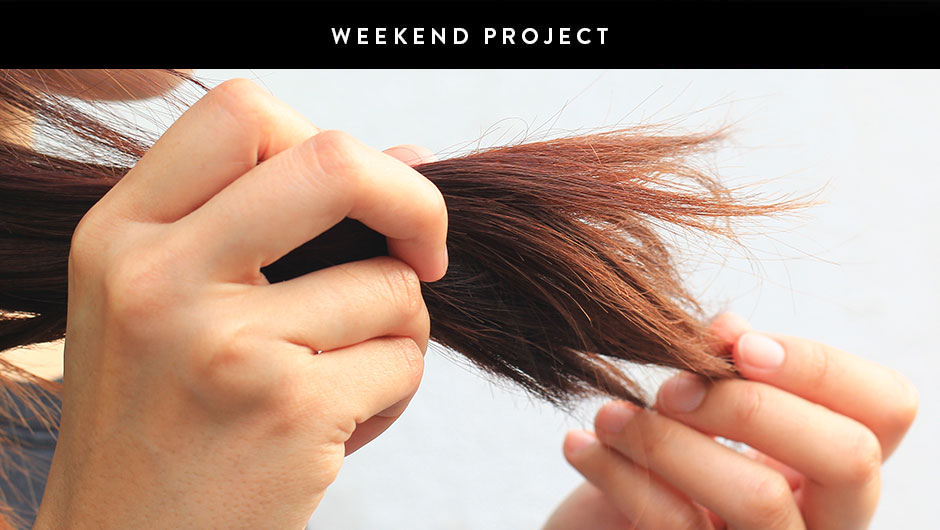 Weekend Project: Mix Up A Super Simple Split End Treatment
Here's a super quick and easy DIY project that will repair your split ends from the hot summer sun and the chlorine and salt water that damaged your hair all summer long. It's very simple and of course, made with only household ingredients! What you'll need: 1 egg yolk 3 tbsp olive oil 1 tbsp honey Make sure you separate the egg yolk from the egg white because the yolk is super hydrating for dry, brittle hair. Once the yolk is separate from the white, mix with the olive oil and honey. Then, simply apply the mixture to the bottom half of your hair, focusing on your ends. Leave it in for close to 1 hour before washing it out. Your ends will feel refreshed and ready for cooler weather. Be sure to check out DIY texturing sea salt spray and the best mask for some skin TLC.
Weekend Project: Make Your Own Detox Tea
Whether you're feeling bloated or just worried you've indulged in way too much dessert and alcohol over the last few days, cleansing your system is easier than you think. And believe it or not, you don't have to spend a small fortune on one of those trendy teas being promoted all over social media. Instead, start your weekend off right with this quick and easy detox tea. Not only is it good for you, but it doesn't taste gross. Ingredients: -1/4 tsp of tumeric - Black pepper -1/4 tsp of ginger powder -1 tbsp of honey Combine these ingredients with 2 cups of boiling water. Let it steep in the hot water for a bit, then drink. These ingredients together will settle your stomach, feel really soothing on your throat and throughout your body, and will act as an antioxidant so you feel totally detoxed. Be sure to check out DIY bath bomb and make your own soothing cuticle cream.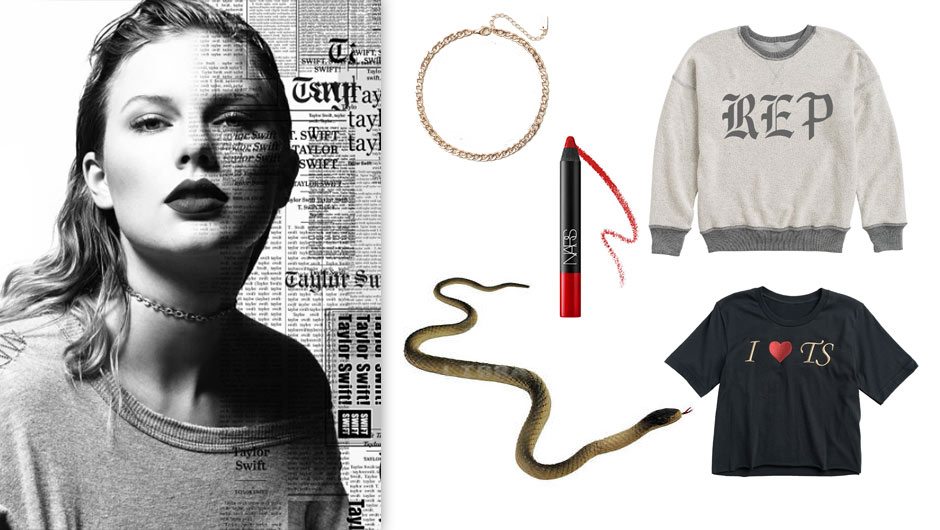 Here's How To DIY A Taylor Swift Halloween Costume, Inspired By Her New "Reputation"
Unless you live in a cave without Internet access, you've probably gotten wind of Taylor Swift's new song, "Look What You Made Me Do," and its corresponding music video. Although we're still not sure exactly what we made Taylor do, the song is annoyingly catchy. The video, on the other hand, takes drama and shade to never-before-seen levels. With disses to Katy Perry, Kim and Kanye, and even music streaming companies, you really just have to see this video to believe it. There's A LOT going on. And, in true T. Swift fashion, she just had to steal the solar eclipse's thunder and announce news of her upcoming album the same day, which is called "Reputation" in honor of her new self-proclaimed "good girl gone bad" identity. We'll see how that pans out. Anyway, we predict this buzz-worthy song and video will spark tons of T.S. Halloween costume variations this year. She has more than 10 different outfits you and your it-girl squad can replicate from the music video, but we rounded up a funnier approach to a DIY T. Swift costume based on her "edgy" new look from her album cover. We've come a long way from T. Swizzle's "Teardrops On My Guitar" days. As she explains in her new song, "the old Taylor can't come to the phone right now." Why? Because "she's dead," duh! I must admit, though, she does look kind of cool with her new "smarter" and "harder" persona that she debuted on the"Reputation" album cover. She wears her curls slicked back with a choker necklace and a ripped sweatshirt. To re-create this look, you can pre-order her new merchandise she just launched for the album. Buy this "Rep" sweatshirt, cut a few holes in it and wear it off your shoulders to copy Taylor's cool-girl look. Repping (get it!?) her merchandise will also probably feed into her ego even more. Reversible Terry Pullover ($65) In the song's music video, Taylor drops it low in scenes that look strikingly similar to Beyoncé's "Formation" video. Coincidence? Probably not. But, her backup dancers all wear black "I <3 T.S." t-shirts. Apparently, this might be a stab at Taylor's ex (shocking!) Tom Hiddleston, who once wore a similar shirt when he dated the melodramatic star. Good news—you can also get your hands on this notorious shirt from her online marketplace as part of her new collection. Wear it under the sweatshirt for the complete T. Swift allure. Or, honestly, just make your own. Embroidered Crop Tee ($50) The country/pop singer also sports a thin, gold choker on the album art. We found a similar one from American Eagle. AEO Gold Linked Chain Choker ($5.97) It wouldn't be a Taylor Swift costume without her signature red lip, but it looks like she might be experimenting with darker shades. Even though she released the "Reputation" album cover in black and white, it appears that the lip color she's wearing screams more of "I'll be the actress starring in your bad dreams." Keep the rest of your makeup to a minimum for the costume. Nars Velvet Matte Lip Pencil ($27) In case you haven't heard, after her drama with Kim and Kanye, Taylor has since been labeled a "snake," which she of course plays on in the music video. So, ssssssslither into all your Halloween parties with this rubber prop draped around your torso. Realistic Manmade Soft Rubber Animal Fake Snake ($2.85) If you want another prop, you can also create her red, underlined "list of names" that she mentions over and over in "Look What You Made Me Do." Include every single one of her exes and anyone she's ever had bad blood with. It might be a long list. And, there you have it, folks—a 2017 Taylor Swift Halloween costume. Maybe once you channel her identity you'll finally solve the mystery of what everyone actually made her do. Keep us updated. For more DIY Halloween costume ideas, make sure to check out this year's best pop culture Halloween costumes. [Photo: Instagram]
Here's How To DIY A Moana Halloween Costume This Year
Even if you don't consider yourself an avid fan of Dinsey cartoons/musicals, you absolutely need to add Moana to your Netflix watchlist. I have to admit, I have a hard time hopping on the bandwagon for children's movies. But this one really changed the game—and surprisingly had a lot of humor (and great tunes). For those of you who have yet to tune in, here's a summary. Teenage Moana lives on a secluded Polynesian island, where her father is the chief. By default, she's destined to take over control of the island, which is starting to decay. But, the ocean has other plans for her, and chooses her to set out on a solo voyage in order to save her home from a curse. She's not your typical Disney princess—this girl has guts and gusto. So, that makes her the perfect female figure to channel for Halloween this year. You only need a few clothing items and accessories to DIY a Moana costume and save your island from corruption. Moana sticks to the same outfit during the entire movie. When you're an active, ocean-obsessed princess, you really don't need that many clothing selections. It's ok to outfit repeat when you have such an important mission on your hands. For her go-to shirt, she wears a red, strapless cropped tube top, embroidered with pretty patterns. You can actually find replicas of her entire get-up on Ebay for around $20. Or, you can buy a similar red, layered version that you can re-wear post Halloween. Aerie Rumba Ruffle Top ($11.98) As for her skirt, Moana still manages to run errands all over the island in a white patterned midi skirt with a hula skirt underneath. Again, you can find exact replicas of the skirt on costume or craft websites, like this version for $110 from Angel Secret. But, let's be real—it's not feasible to spend over $100 on a skirt you'll probably only wear once. A regular hula skirt for less than $5 is just as Moana-approved. She also has a red sash that she ties around her skirt, which you can easily duplicate with a piece of ribbon or fabric. Amazon Beistle Adult Mini Hula Skirt ($4.91) No princess outfit would be complete without a little bling. For Moana's pop of jewelry, you need her grandmother's necklace to securely hold the shiny green heart of the goddess Te Fiti. Amazon has a light-up style, enclosed with the goddess heart and all, but it's made for children. If you don't want to squeeze into a tiny prop, you can DIY your own inexpensive necklace with some rope, a few pearls, and a blue gemstone. Disney Moana's Magical Seashell Necklace ($18.60) To flaunt your cool princess status, pin a fake decorative flower in your hair. Party City Pink Hibiscus Barrette ($2.99) Tussle your locks for some beachy-looking waves, practice your singing and walk with an air of confidence to officially pull off Moana. And, just keep saying "I am Moana of Motonui, you will board my boat," over and over again. Fans will get the idea. For more DIY Halloween costume ideas, check out a Wonder Woman costume, a Gigi and Bella Hadid costume, and a unicorn-themed costume. [Photo: Disney]
Here's How To Make A "Salt Bae" Halloween Costume This Year
Ah, the Internet—the beloved digital sphere where even the most seemingly simple videos have the potential to grow viral, inspiring memes and fan memorabilia. One such video that took the pop culture world by storm this year is the "Salt Bae" phenomenon. If you have no idea what we're taking about, you're not alone. TBH, I had never heard of this "Salt Bae" figure until last week. But, after doing a little Google research, here's a quick rundown. "Salt Bae," A.K.A. Nurses Gökçe, is a Turkish steakhouse owner who posted a video simply called "Ottoman Steak" in January, in which he cuts a piece of meat to juicy perfection. So, what makes a meat-cutting video go viral? With an impeccable flick of the wrist and precise arm form, "Salt Bae" earns his nickname by topping said steak with just the right amount of salt (see the shirt below for a visual), all while wearing a fitted t-shirt with an extremely deep scoop-neck and dark, round shades. You really just have to watch the video to get the full effect of its hilarity. If you're dying to take part in this viral sensation, there's no better time than Halloween to take the plunge. We rounded up everything you need for a "Salt Bae" costume, fake steak and all. "Salt Bae" is notorious for his iconic look, complete with gelled hair, a mustache, a white t-shirt tucked into black pants with a belt, and sleek round sunglasses. If you want to mirror his outfit perfectly, check out this white Vintage Cotton Scoopneck T-Shirt for $19.99 from J. Crew. Buuuuut, for a much more fun spin on the costume, why not buy a shirt with your Halloween persona printed on it!? This tee even comes in a hoody, perfect for chilly Halloween weather. Salta Bae Hanes Tagless Tee ($21.99) You also need black pants to complete the look. A pair of black jeans will do. If you don't already have some on-hand, take a look at this super affordable pair from H&M. For the finishing clothing touch, wear the pants with a black leather belt, like this Wide Leather Belt for $19.99, also from H&M. H&M Skinny Regular Ankle Jeans ($9.99) Next, you need a suave set of sunglasses. You wouldn't want to risk salt penetrating your eyeball when you marinate steak! You can actually re-wear this cool pair from Urban Outfitters once your "Salt Bae" days are over. And, they're currently on sale. Hello, thrifty Halloween shopping. Urban Outfitters Metal Round Sunglasses ($10) With the outfit out of the way, your props are the next key component to this costume. You're not truly "Salt Bae" unless you actually have a can of salt with you. You never know when something might need a little sprinkle of salt. Fill up a salt shaker from your kitchen, or just carry a small packet in your pocket. Nu-Salt Salt Substitute ($1.38) And, of course, you need a plastic piece of meat as the target of your salt-sprinkling. Even though this one is actually a dog toy, it still works. Your canine can use it post-Halloween, so you have some sort of validation for buying a t-bone toy. Dogmeat™ T. Bone Steak: Small ($6.48) Don't forget the most important part—keep your arm flexed and ready at all times for salt-sprinkling! You can also draw a fake mustache on your face if you really want to go all out. For more DIY 2017 Halloween costumes, check out a "cash me outside" girl costume, a Wonder Woman costume, and a Belle costume. [Photo: YouTube]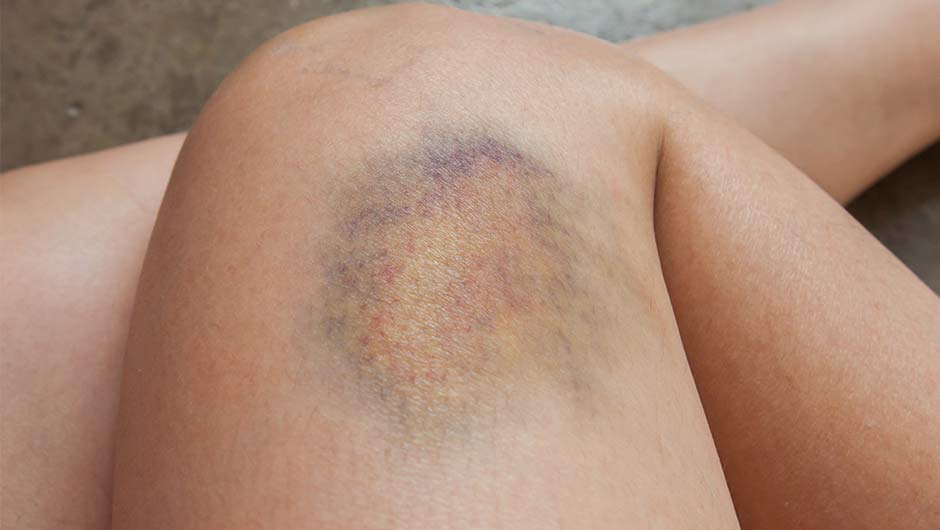 5 At-Home Remedies For Bruises
Here's How To Make A Handmaid's Tale Costume For Halloween This Year
Fans are freaking out about the Hulu original series The Handmaid's Tale, which was actually based off a book by the same name from 1985. If this isn't on your watchlist, add it ASAP. Not to spoil too much, but here's a quick rundown. The show is set in the future after a civil war, when religious extremists rule the society and fertility rates are extremely low. Because of this, fertile women become known as "handmaids," and they have to live with the elite members of society to essentially produce children for them. Yikes. The handmaids have no rights and wear kooky little red robes with white bonnets (throwback to the 18th century). If you're an avid viewer of the show and want the easiest DIY Halloween costume ever, we rounded up everything you need to transform into Gilead's next handmaid. All the women in the series have specific uniforms that they're required to wear, and the style and color indicate their social standing. The handmaids unfortunately got stuck wearing long, cape-like, bright red dresses with white underwear, brown boots and socks underneath. To top off this overtly modest fashion statement, the handmaids have to wear white structured bonnets that partially hide their faces whenever they're in public. This designated wardrobe obviously has the society's male religious rulers written all over it. Coincidentally, women IRL have recently been donning this iconic outfit during protests, which has created a high demand for the dress and bonnet. This is great news for your Halloween costume, since you can find the red handmaid's dress for $69 on Oasis Costumes. Etsy also has a super authentic looking custom version of the dress, but for $143. Honestly, your easiest and cheapest option is to buy a big red cape, or even a red graduation robe, for the same effect. Fully Lined Deluxe Red Cape ($19.88) The bonnets that the handmaids wear aren't of the typical lace-y type. They have a more futuristic spin that actually more closely resembles a cone you might put on your dog. Weird. If you're good with a sewing machine, you can buy a pattern to make the bonnet yourself for $6 from Etsy, or a $30 bonnet kit with some of the materials. If you don't even know how to thread a needle (I feel you), you can buy a similar bonnet from Target. It looks more colonial, but it'll do the trick. Target Women's Bonnet White ($15) The handmaids also carry white canvas crossbody tote bags. If you really want to get technical, you can have a custom, realistic purse made for $20 on Etsy. Otherwise, stick with this much cheaper, shorter version that you can actually reuse quite often. Bargain Canvas Tote ($1.35) As for footwear, the blander the better. There's not much room for creativity with the handmaids' shoes (shocking!), and your options are pretty much boots or....boots. If you already have a pair of brown riding boots or combat boots, then you're all set. If not, check out this cheap pair from Walmart. Faded Glory Women's Combat Boot ($19.87) For more 2017 DIY Halloween costumes, check out the best pop culture Halloween costumes this year. [Photo: Hulu]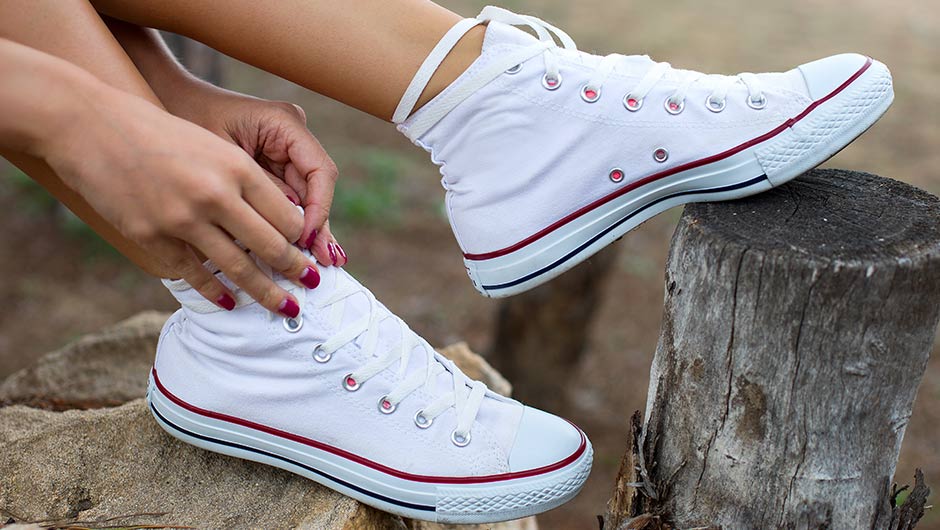 5 Easy Ways To Clean Your Converse To Make Them Look Brand New
We all adore our Converse, but what do we do when our beloved high tops look a little worse for wear? They tell the story of all life's moments—from that time you accidentally spilled mom's homemade spaghetti sauce because it was just so yummy, to last week's soggy trek through the city when it unexpectedly started to rain. And while all those memories are well and good, we'd rather leave the lasting marks on our minds, and not our shoes. Below, we've created a go-to guide for cleaning your Chuck Taylors. Because no matter if you've had that same pair for years, it's actually possible to make them look brand new again! In order to get the best results, you'll first want to remove the laces for easy access around the eyelets and tongue. Run your shoes under warm water to get them damp, then shake off any excess water. From here, there are a variety ways you can choose to clean your shoes. 1) First, you can try powder cleaners. Use a powder detergent and mix it in a bowl with a small amount of warm water to create a paste-like substance. Then, use a toothbrush to scrub the paste onto any dirty areas. Finally, rinse the shoes with warm water and towel dry them. You can repeat the process if the stains are still apparent. When you're content with the results, leave the shoes out to air dry, and viola! Sparkling clean. 2) Surprisingly, the same hack for cleaning faux gold jewelry applies to cleaning your shoes—you can use a bit of toothpaste to do the trick. Make sure to use a non-gel white toothpaste, as colored toothpastes may further stain your shoes. Work the paste into the dirty spots, and let it sit for 10 minutes. Once the time has passed, wipe the toothpaste off with a damp towel. If you're in a rush, this is an easy, quick way to get the job done. 3) You can also use baking soda and vinegar to bring your Converse back to life. Combine one tablespoon of white vinegar and one tablespoon of baking soda with the same amount of hot water until you achieve a pasty consistency. You'll also want to use a toothbrush for this method to massage the paste into the fabric. Once you're done, rinse the shoes in warm water and towel dry them. Find a warm place in the sun to place your shoes so that they can completely dry. 4) If you're feeling a bit lazy, you can opt for throwing the Converse straight into the washing machine. Place them alone in the drum without any other garments. Use half a cup of detergent, but avoid adding bleach so that the pattern of your Converse stays intact. Wash on a cold cycle. Although it might be tempting, refrain from putting your Converse in the dryer, as they'll bang up the inside of the machine. 5) While this last method may come as a shock, it turns out that you can actually clean your Converse in the dishwasher! Make sure the washer is empty before putting them in, and place them on the top rack of the machine, face down. Start the cycle, and let the machine work its magic. For more shoe cleaning tips, check out how to clean your Stan Smiths. [Photos: Shutterstock]
Weekend Project: Make Your Own Texturizing Sea Salt Spray
Beach waves are not only super pretty, but they're also an easy hairstyle that doesn't require any heat. Sadly, not everyone was born with gorgeous wavy hair. No worries, though, if you have stick straight strands; a texturizing sea salt spray can help you achieve the beach waves of your dreams. And guess what? You can make your own rather than spending a ton of cash on one at a beauty store. Here's how you do it: Ingredients: - 2 cups of hot water - 1 teaspoon of salt - 1 teaspoon of coconut oil Put all three ingredients in a spray bottle, then shake vigorously to combine. Apply this spray to damp hair as you tousle your waves around. The water and salt will create that signature ocean hair look and the coconut oil will help to keep your hair shiny and hydrated. Be sure to check out the best mask for some skin TLC and DIY soothing cuticle cream.
Here's Everything You Need To DIY A Baywatch Halloween Costume
Crime! Hot lifeguards! The beach! Even 16 years after the original Baywatch TV show left the air, the premise of the 2017 movie remake remains the same, save for a few new fresh faces. Zac Efron, Dwayne "The Rock" Johnson, and Priyanka Chopra joined Baywatch alums Pamela Anderson and David Hasselhoff in this comedic, action-packed interpretation. In the film, these red-bathing-suit clad local lifeguards must protect their beloved beach from a sketchy new drug that's sweeping the area. Drama! This Halloween is the perfect time to channel your inner hot lifeguard and DIY a Baywatch costume. Step aside, Pamela Anderson, there's a new beach babe in town. It obviously wouldn't be a Baywatch costume with an itty bitty red swimsuit, so take it to the next level with this "Bae Watch" one piece. I mean, come on—you honestly can't find a more fitting and fun costume piece than this, even down to the color! It's a bit of a splurge for just a Halloween costume, so save it for future use next summer. Since Halloween definitely doesn't fall under swimsuit season, you'll probably want to wear this as a bodysuit tucked into a pair of jeans or leggings. Since, you know, it gets cold in October and all. For cheaper (but way less entertaining) versions of the famous Baywatch get-up, check out this J. Crew Scoopback One-Piece Swimsuit for $49.99, or this $30 Aerie Super Scoop One Piece Swimsuit. Private Party Baywatch Swimsuit ($99) You definitely don't want to cover up the most important piece of your costume (the bathing suit, duh). But, if you want an extra layer, this tank top's the way to go. It probably won't do much in terms of keeping you warm, to be honest, but it helps authenticate your outfit. Besides, you're a Baywatch babe—you bring the heat! If you don't want to go the traditional swimsuit route for your Halloween costume (which is totally understandable since it's the middle of fall), just sport this top with pants or red shorts and call it a day. Or, for a more revealing and Baywatch-appropriate top, check out this Urban Outfitters Baywatch Cropped Tee for $19.99. Target Men's Baywatch Malibu Beach Patrol Tank Top ($11.99) In case anyone had any doubts that you were a seductive lifeguard on a mission to protect the beach, add this inflatable boogie board to your ensemble. You can even use this comfortable prop to your advantage as an on-the-go chair, and pop a squat wherever you please. Disclaimer: this is not an actual professional life-saving device, so don't get too cocky. Walmart Baywatch Inflatable Mock Life Raft Preserver Boogie Board ($12.90) Your skin also needs to look the part of a sun-kissed lifeguard on duty, so douse your body in self tanner. Start applying a few nights before Halloween to build up a solid base tan. If you end up looking orange, no biggie—it's all in the spirit of Halloween, and it washes off easily. Give your hair a tousled, beachy look, perfect your slow motion running, and then you're officially a Baywatch lifeguard! Jergens Natural Glow Daily Moisturizer ($2.49) For more 2017 DIY Halloween costumes, make sure to check out this year's best pop culture Halloween costumes.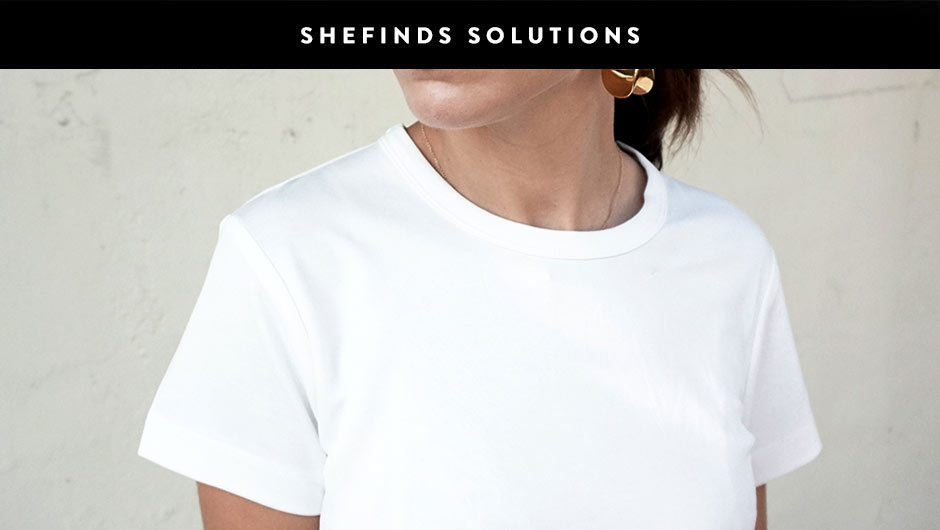 Once And For All, Here's How To Remove Yellow Stains From The Underarms Of White Shirts #SHEfindsSolutions
We've all been there: your favorite white shirt that fits so well and goes with everything starts to develop those unsightly yellow underarm stains. Ew! It may feel like tossing your beloved shirt in the garbage is the only option once those stains develop, but not so fast! You can actually remove those nasty yellow stains and have your white shirt looking as good as new. Here's how: Start with two simple ingredients: vinegar and water. Yup, it's that easy. Mix equal parts water and vinegar in a spray bottle. Generously spray this solution all over the stain so that it is saturated with your homemade stain remover. Let that sit and soak in for about 45 minutes to an hour. After your shirt has soaked, wash it in cold water. If you feel like it isn't completely clean before drying, repeat these steps once more and then dry. Be sure to check out how to stop a hangnail from getting worse and how to stop lipstick from sinking into the creases on your lips. [Photo: Always Judging]
Here's Everything You Need To DIY A Hot Dog Snapchat Filter Halloween Costume
If you're an avid Snapchat user, you're probably no stranger to the beloved dancing hot dog filter that the social media platform blessed us with in July. And, if you've yet to test out this happy cartoon food, then you're doing Snapchat all wrong. From busting a move at the beach to making an appearance in The Shining, this little guy can tag along with you anywhere. His signature arms-bouncing-back-and-forth dance move and his skillful one-handed upside down spin make him the life of the party. There's now a version of the filter where you can put your face on the hot dog's dancing body with an upbeat jam playing in the background (you definitely want to try this one out if you need a good laugh). One man apparently even got this filter tattooed on his arm (too far?). While that's slightly extreme, you can still show your hot dog snapchat filter fandom in Halloween costume form with this easy and super cheap DIY Halloween costume. Under one condition—you're expected to break it down just like the digital version would at every Halloween party. For this outfit, you obviously need an adult hot dog costume. This might seem like a one and done piece of clothing, but you never know when you might need to dress like a hot dog in the future (National Hot Dog day?). Target's version looks the most life-like, mustard and all, but you can find cheaper wiener costumes at Jet.com and Amazon. You can also buy one for your significant other and kids to coordinate a hot dog Snapchat filter family takeover. There's even a hot dog costume for your dog if you're really feeling crazy. Target Adult Hot Dog Costume ($40) For underneath the weenie ensemble, wear brown sweats and a brown long sleeve top to mimic the arms and legs of our Snapchat hot dog friend. You can also buy two pairs of long brown socks to wear over your legs and arms. The hot dog costume might get toasty, so it's probably in your best interest to keep your layers pretty light underneath. Keep in mind that bathroom breaks will also require a lot more work in this get-up. Pro Feet Acrylic Multi-Sport Cushioned Tube Socks ($2.69) It wouldn't be a Snapchat hot dog costume without green headphones. This accessory definitely makes your costume more distinguishable and sets you apart from just any old hot dog—you're THE Snapchat hot dog! We're not exactly sure why the cartoon wears green headphones in the first place, but just go with it. You can get this completely identical pair on sale at Groupon (down from $49.95). They're pretty cool looking, too, so they can replace your current bland headphones. Snapchat hot dog is one stylish techie. Monster NTUNE On-Ear Headphones ($19.99) Finally, to look and act the part, perfect your breakdancing and hand swaying. Once you've mastered these, you can officially crown yourself as an authentic Snapchat hot dog. For more 2017 Halloween costume inspo, check out a DIY fidget spinner costume, a DIY Wonder Woman costume, and a DIY Eleven from Stranger Things costume.
Weekend Project: Make Your Own Soothing Cuticle Cream
When you're not getting a manicure, chances are you're probably not paying your cuticles much attention. But that all changes today! Keeping your cuticles soft and hydrated is not only the key to gorgeous hands, but also helps ensure your manicure lasts longer. Rather than invest in a fancy cuticle cream, why not consider making your own? It's easier than you think, it's a nice to pamper yourself and your hands will feel (and look!) so much better. Here's what you'll need: - ¼ cup of coconut oil (liquefied) - 1 teaspoon of Vitamin E oil Combine the two ingredients together by stirring and transfer it into a small container. Chill in the fridge until it's solid, then use whenever your cuticles look dry or feel like they're starting to peel. The coconut oil is super hydrating and will soften the cuticle and Vitamin E oil is an antioxidant that rejuvenates skin. You'll be on your way to soft, healthy cuticles in no time! Let us know if you try this DIY project and be sure to check out banana DIYs that will transform your skin and DIY relaxing, edible face mask.
How To Make Your Own Wonder Woman Halloween Costume
With the 2017 version of Wonder Woman, actress Gal Gadot ushered in a totally rebellious (and not to mention sexy) revamped version of this powerful female character. Gone are the former generic red, white and blue Wonder Woman Halloween costumes. Instead, make way for a much less demure outfit inspired by the recent film. Gadot rocked darker, more edgy colors for her costumes, which you can easily replicate for a DIY Halloween outfit under $100. First, let's talk tops. Wonder Woman can't be seen in just any old shirt. You need a statement-making strapless number that shows off your killer form. This velour bodysuit screams "girl boss" and hot female force to be reckoned with. Plus, you can save it for GNOs in the future to pair with jeans and a jacket. Even though it doesn't have the same plated dealing as the original movie get-up, everyone will still be able to pinpoint who you're dressed as. Strapless Crisscross Velour Bodysuit ($12.91) Your skirt selection also plays a major role in defining this costume. Most Wonder Woman costumes in the past payed homage to earlier representations of the comic book character, featuring blue tutus or skirts speckled with white stars. As much as we love the patriotism, your costume needs to get with the times and reflect Wonder Woman 2.0. Look for fitted skirts in more subdued, dark neutrals, like this Walmart skater skirt. You can also check out this black origami skirt. Main takeaway—steer clear of looking like the American flag. Also, make sure that your skirt errs on the shorter side, since you'll want to pair this outfit with tall boots and avoid cutting off your legs. Women's High Waisted A Line Pleated Short Skater Skirt ($10.99) Use a flashy gold belt to sync the top and bottom. It's also not a huge deal if your skirt and top clash since the belt helps break the two pieces up. Women Gold Full Metal Plate Mirror Fashion Belt ($13.72) Your sky-high shoes need to give off a "don't mess with me" vibe and make your stems look miles long. You'll be the sexiest superhero at any Halloween party if you put your best foot forward in these sleek over-the-knee boots. The 4" heel gives you that extra height factor to boost your confidence and make you feel like you can kick anyone's butt which, if you're wearing these shoes, would definitely hurt. This component would be the most expensive part of this Wonder Woman costume, but it totally evens out when you factor in how much use you could get out of them year-round. If you really want to look the part, buy a leather pair. So Much Yes Black Suede Over The Knee Boots ($49) To fully avoid the "what are you supposed to be?" question, Walmart released a gold Wonder Woman headdress and arm band set for the finishing touch on your costume. Even though they're for children, you can still try to squeeze into them for the sake of Halloween and to further authenticate your costume. If you want even more themed accessories, check out Walmart's Wonder Woman sword and shield, which also happen to be for children. Grown women need Wonder Woman swag, too! DC Comics Wonder Woman Headdress & Arm Band ($7.07) For more DIY Halloween costumes, make sure to check out this year's best pop culture Halloween costumes. [Photo: Warner Bros.]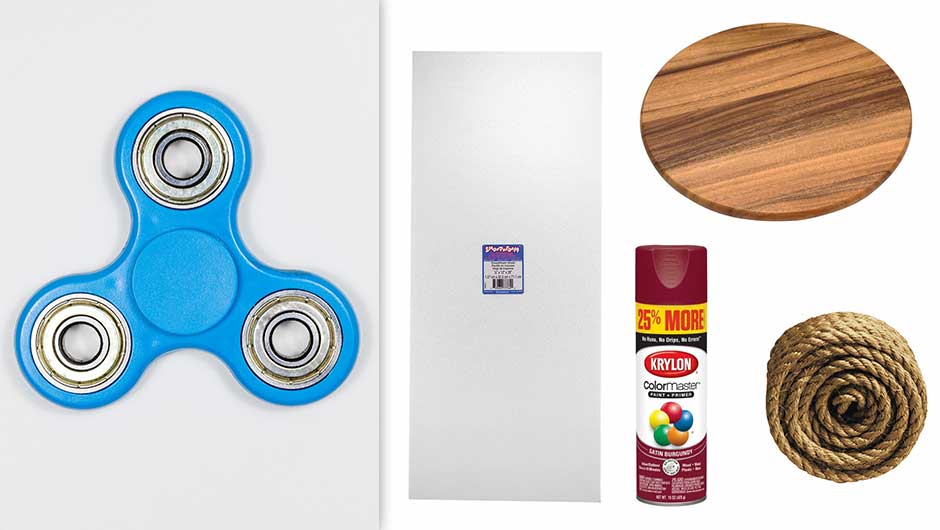 How To DIY A Fidget Spinner Costume So That You'll Be The Coolest Person At Every Halloween Party
Even if you're not on the fidget spinner bandwagon, you can't deny that they're everywhere. These three-pronged pieces of plastic and aluminum aren't just your average toys. With appeals to teens, adults, and essentially anyone with two spare hands, it seems like everywhere you turn there's someone fidget-spinning away when boredom sinks in. For this reason, this unfathomable trend makes the perfect 2017 Halloween costume. Stand out amidst the basic witch and cat costumes this year at all your Halloween parties in a totally on-point DIY costume. All your friends will have costume envy. One man, Rob Cockerham, actually made a 6-foot fully functioning fidget spinner costume out of aluminum, plywood, styrofoam, and a shoulder harness, which seems like a lot of manpower, and you definitely want a costume that can fit within doorways. But hey, if you really feel like getting in the fidget spinner spirit, then follow in his footsteps by all means. Our version is a little more low key and much smaller, but we're all for getting in the true Halloween spirit. To make this costume, you'll need a Lazy Susan or rotating cheese board, cardboard or styrofoam, paint/spray paint, a hot glue gun or Mod Podge, rope, and tape. Roll up your sleeves because this is going to be a wild DIY ride. 1) First, you need to make the spinning throng pieces. We recommend using styrofoam, since the 6-foot tall costume worked successfully with this material. Cockerham used a 4x8 styrofoam sheet and cut out 30" circles. For a smaller-scale version, even using 12" circles will suffice. The smaller you make it, the easier it will be to find bowls or kitchen appliances that you can trace onto the styrofoam. Gather any round surface you can get your hands on—you'll need a larger one for the throngs and a slightly smaller one to trace semicircles that connect the throngs. Cockham even made a makeshift compass using a nail, string, and pencil. 2) Next, channel your inner artist. You might have to draw the spinner at an angle to fit it in on the styrofoam, depending on how large you make yours. Use a ruler or measuring tape to lightly trace an equilateral triangle onto the styrofoam, which you can paint over later. The points of the triangle mark where your throngs will go. Position whatever round tracing tool you have on the middle of each triangle point so that they're evenly spaced out. It helps if you use a clear or transparent bowl for tracing so you can see where to perfectly align it over the triangle's corners. Once you trace the three prongs, use your smaller circle to draw semicircles in between the larger circles. If possible, you can even print out a poster-sized fidget spinner to trace for the most accurate representation. Use a craft or kitchen knife to cut out the completed shape. Fidget spinners usually have holes within the three throngs, so use another small round object for tracing and then cut these out. 3) Now, the fun part—painting! Spray paint is probably your fastest bet, so pick your color and get busy. You  To make it even more authentic looking, real fidget spinners all have black rings surrounding the cut-outs within the circular extensions. If you have a steady hand, you can trace rings around the hole cutouts and paint them black. Or, you can make the black ring pieces separately with leftover styrofoam, spray paint them, and attach with a hot glue gun. 4) Once you've made the base, you obviously need to make it spin! That's where the Lazy Susan comes into play. Position it facedown on the back of the styrofoam structure, directly in the middle. Use a hot glue gun or Mod Podge to securely fashion the two components together. 5) Here comes the tricky part—assembling this contraption on your body and making it functional. Using Mod Podge, a hot glue gun, duct tape, or a combination of all these things, attach two pieces of rope to opposite ends of the Lazy Susan so that you can tie it around your body securely. Cockerham actually positioned his fidget spinner costume around his neck and head, using a shoulder pad contraption to hold it up. If you're super handy, you can go this route. Otherwise, rope will have to do. Be warned—this costume might hit you in the face, and maneuvering between rooms is going to take some talent. Happy Halloween costume making! [Photo: Shutterstock]
Weekend Project: Make Your Own Bath Bomb
Bath bombs are the perfect gift if you're on a budget and they're also just a really fun addition to an at-home spa day. What's even better is that you can actually make one yourself! No more spending tons of money on a product that will disappear the second you drop it into the water. This recipe is seriously so easy you won't believe it. Here what you'll need: 1 cup baking soda 1/2 cup citric acid 1/2 cup Epsom salts 1 tsp. water 2 tsp. essential oil 3 tsp. olive oil any color food coloring bath bomb mold First, mix all your dry ingredients in one bowl, and the liquid ingredients (plus your food coloring!) in another. Then slowly combine the liquid mixture into the dry as you whisk thoroughly. Finally, just pack the finished product nice and tight into a bath bomb mold, like this one, and let it dry overnight. So easy, right! Let us know if you tried this and be sure to check out banana DIYs that will transform your skin and how to fake a face lift with common kitchen ingredients.
3 Banana DIYs That Will Totally Transform Your Skin
The best beauty products are the ones that are super easy to use and the ones that are useful in multiple ways. That's why for this weekend's DIY project, I'm going to show you how to use bananas for three different beauty concerns. In case you didn't know, bananas can help rid you of acne, brighten your skin and prevent wrinkles. Check out the super simple DIYs below to get started: If you have acne prone skin, bananas contain tons of vitamins that help reduce inflammation (mainly vitamin A), as well as vitamin C, which can reduce the appearance of acne scarring. Mix 2 tablespoons of mashed banana with a tablespoon of baking soda and a few squeezes of fresh lemon juice for a skin-calming mask that will help with acne and dark acne spots and scars. For dull skin that could use some brightening, the citric acid found in bananas will immediately act as a natural exfoliant to remove dead skin. The vitamin C? It's an amazing brightening agent. To create this DIY, mix 2 tablespoons of mashed banana with one tablespoon of honey. Honey is super soothing and will work with the banana to help you achieve an awesome natural glow. Finally, if you want to reduce the appearance of wrinkles or you just want to get an early start on prevention, bananas are perfect for that. They contain vitamin C that boosts collagen production which leads to firmer skin. Mix 2 tablespoons of mashed banana with 1 tablespoon of cold yogurt (this will feel so good on your face) and add a little lemon juice. Yogurt works along with the bananas to anti-age your skin and your skin will feel so rejuvenated. Be sure to check out how to make your own edible face mask and DIY coffee eye mask for dark circles and puffy eyes.
Weekend Project: How To Fake A Face Lift Using A Common Kitchen Ingredient
Want a face lift without the hassle, cost or surgery? All you need is one thing: egg whites. For real! Egg whites can mimic the effects of a face lift because they tightening the skin, make the the face feel firm and reducing the appearance of fine lines and wrinkles. Reaping the benefits of an egg white facial are easy so you won't have any trouble doing this at home. First, separate the egg white from the egg yolk. Once you have a bowl of only egg whites, mix them with a fork as if you were making scrambled eggs. You can either stop at this step and use that on your face for about 10 minutes before rinsing with warm water, or take it one step further by adding ingredients to enhance your skin. Some possibilities of ingredients you can mix-in are avocado if your skin needs some hydration, grated potato if you have redness or irritated skin, and even an apple after reducing it to a pulp in a food processor which is an awesome natural exfoliator. Another reason to love eggs, right?! Be sure to check out how to make your own coconut sugar body scrub and DIY honey and lemon face mask for redness.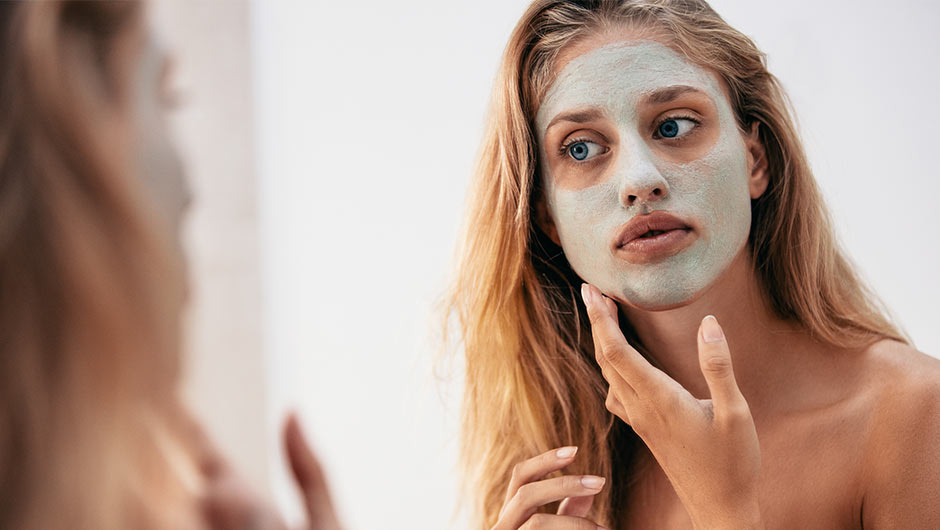 DIY Face Masks For Oily Skin
Gather up your kitchen ingredients and brush up on your DIY skills because we have another roundup of make-at-home face masks. We already covered DIY dry skin face masks, so oily skin ladies, this one's for you! Check out the best DIY face masks for oily skin that you can make in minutes. DIY face masks give you cheaper, chemical-free alternatives to store-bought masks that are much gentler on your skin. At-home face masks for oily skin usually involve bananas or oatmeal, so hit the grocery store beforehand and stock up on ingredients. You can always add your own ingredient variations of you're an avid DIY face mask creator. And, you should always test out products before applying them all over your skin. Once you make your own mask, put it on a small patch of your face for a few minutes to see how it reacts. Oatmeal, Honey, and Yogurt: According to DIY Remedies, oatmeal actually makes the perfect face mask ingredient because it exfoliates your skin and can help remove dirt and grime that clogs your pores. The yogurt can work wonders for your face, too. Its lactic acid helps soothe your skin. Last but not least, honey has way more benefits than you can believe. It gives your skin an extra kick of moisture and can help protect your skin from infections, among many other things. Stir these ingredients into a paste, and lather it on your face. You can even make a snack out of it. You might also want to lie down after you apply it to prevent oatmeal chunks from falling around your house. Get the full recipe here. Turmeric Powder and Honey: Bright yellow turmeric powder might seem super intimidating, especially to put on your face, but there's a method to the madness. You get tons of benefits from eating the spice, so it makes sense that using it externally will have its perks on your body, too. According to The Indian Spot, turmeric powder can help clear you pores, remove dead skin, and has antioxidants that prevent aging. Be warned, though—the obnoxiously bright color of the mask might stain, so wear old clothes if you test this one out. The Indian Spot recommends buying a specific kind called kasturi turmeric. Get the full recipe here. Banana, Honey, and Lemon: According to Bellatory, bananas have helpful antioxidants and essential nutrients, can moisturize your skin, and have oil-fighting powers to prevent breakouts. Bananas in face masks have the ability to get rid of excess oil on the surface of your skin, so grab a handful the next time you're in the produce section. You can treat yourself to a bite to eat and clear skin in one quick trip to the store. Mix a ripe banana, honey, and a dash of lemon for less oily skin in no time. Get the full recipe here. Oatmeal, Green Tea, and Honey: Brace yourself for another funny-looking oatmeal mask! According to Holistic Health Herbalist, ground oatmeal can also help reduce redness and irritation, and oatmeal in skin care dates back hundred of years. Throw in some green tea, raw honey, and your choice of essential oil to help your skin produce less acne-inducing oil. Get the full recipe here. [Photos: Shutterstock]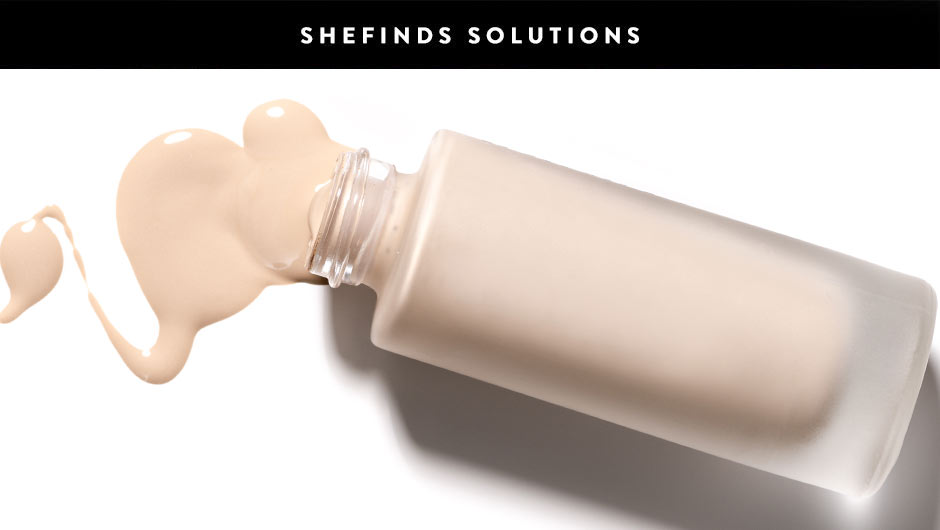 4 Ways To Remove Foundation Stains That Don't Involve A Washing Machine #SHEfindsSolutions
Ever do the perfect full face of makeup, only to slip on a blouse or dress and find you've transferred foundation onto your clothing? It's the worst! Especially if you don't want--or have time!--to change your entire outfit or sit around for an entire wash and dry cycle. Luckily, there are a few easy ways to remove foundation stains that don't require a lot of time or energy. Try the tips and tricks below the next time you're in a pinch. Tip 1: Use extra hold hairspray. Simply spray some on the stain, let it sit for a couple minutes then wipe away with a damp towel. Tip 2: If you catch the stain while it is fresh, try using a baby wipe or some makeup remover. If you use makeup remover, apply it to a cotton swab or towel first, then dab onto your clothing. Tip 3: If the foundation is oil-based, try using a Tide To Go pen. It works like a charm. Tip 4: Is the stain really stubborn? Try shaving cream. Apply to the stain, let it sit then rub the product into the stain and rinse with cold water. Repeat these steps, but rinse with warm water instead. You may have to let the water marks dry, but it's definitely better than a brown stain on your favorite top. Be sure to also check out the 9 Sephora collection products every woman should own and how to wear cropped flare jeans. [Photo: Shutterstock]
Weekend Project: Make Your Own Relaxing–Edible!–Face Mask
Had a rough week? Nothing is more relaxing than treating yourself to a soothing face mask before bed. But before you head to your local beauty store and splurge on something fancy, why not make your own? We have super cooling and stress-relieving face mask recipe that will work wonders after a stressful week. Even better, this mask is actually edible! Cool, right?? Here's what you'll need to make it happen: - 3 tablespoons Greek yogurt - 1 tsp. cocoa powder 1 tsp. buttermilk - 1/2 of a banana mashed - 1 tsp. honey - 1 tsp. lemon juice Once you have all your ingredients handy, just mix them together to a smooth consistency. Apply the mask liberally, let it sit for a few minutes then rinse with warm water. Be sure to follow up with a hydrating moisturizer or night cream. Don't forget to check out DIY coconut and sugar skin scrub and DIY coffee eye mask for dark circles and puffy eyes.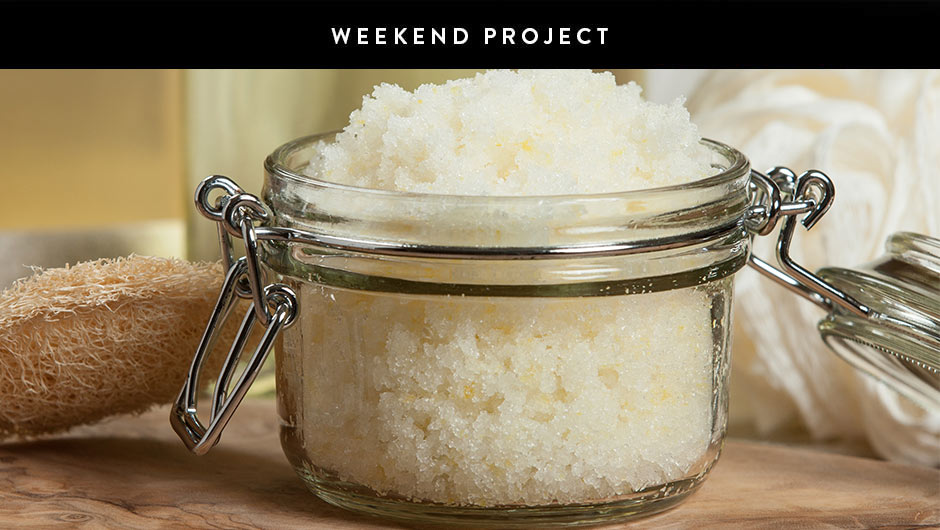 Weekend Project: Make Your Own Exfoliating Coconut Sugar Skin Scrub
Everyone needs a good skin scrub. It keeps your skin healthy and moisturized, and it's especially helpful during the summer when you're out in the sun so much and probably dealing with peeling. But before you shell out cash on fancy body scrub, why not consider making your own? It's easier than you think and the formula below is great to keep in your shower whenever you need some extra exfoliation. My go-to skin scrub on required two ingredients (really!): granulated sugar and coconut oil. To create a small portion of this scrub, use 4 tablespoons of sugar and combine with a heaping tablespoon of coconut oil. The reason this oil is perfect for a scrub is because it hardens in a colder temperature, but will immediately soften on contact to rub right into your skin. It also makes the perfect skin scrub because the sugar will remove dry, dead skin, but the coconut oil will hydrate at the same time. Also, the sugar crystals are small enough so as not to be super harsh on sensitive skin. This stuff really is amazing! I always have some on hand. Pro Tip: This scrub also makes for a sweet gift if you're on a budget. Just package it up in a cute, tiny mason jar and tie it with a bow! Be sure to check out DIY coffee eye mask and DIY exfoliating lip scrub.
Weekend Project: Make Your Own Coffee Eye Mask To Treat Puffy Eyes And Dark Circles
I have finally found a fool-proof solution to dark circles and puffiness under your eyes. I know, you're tired, but it definitely doesn't need to look that way. Just try this coffee eye mask. It's super easy to whip up at home and wakes your eyes right up. Take the long weekend to put this mask together and rejuvenate your eye area for next week. Here's what you'll need: - 1 tsp of fresh coffee grounds - A pinch of black pepper - 1/4 teaspoon of melted coconut oil Step 1: Combine the ingredients above into a paste with some water. Stir it well so it isn't too lumpy, but the water and coconut oil should make the coffee groups fairly smooth. Step 2: Put the paste underneath your eyes and leave it there for about 5 to 10 minutes. Step 3: Finally, dab the mask off with a warm washcloth. You can follow up this mask with an eye serum or moisturizer for the ultimate treatment. Aaaand you're done. Enjoy! Be sure to check out DIY cooling cucumber and mint eye treatment and 3 ingredient exfoliating lip scrub.
Weekend Project: Make Your Own Exfoliating Lip Scrub (Only 3 Ingredients Required!)
If you want your lips to look luscious and feel crazy soft, you need to try this homemade lip scrub. You only need three simple ingredients (which you most definitely have at home already) and it's all-natural. What's not to love?! This easy and fun weekend beauty DIY will scrub away all the dead skin on your lips and moisturize them. Even better, it will make your lipstick look way better and last longer because your lips won't be dry and cracked. Here's what you need to whip up your DIY lip scrub: - Sugar - Coconut oil - Honey Sugar is going to be the "scrub" portion of this DIY projext, so start with about 1/4 cup of that in a bowl (you can mix this up in a jar or Tupperware container to save some for later!). Next, add in a tablespoon or so of coconut oil, which will be the moisturizing component. There's really no wrong way to make this, as long as sugar is in abundance for it's exfoliating goodness. Finally, add a squeeze of honey to bind all of this together and assist in keeping your lips nice and moisturized. All done! Now just apply, let is work its magic for a few minutes and rinse with warm water. Follow up with a moisturizing lip balm and you're good to go! Be sure to check out DIY honey and lemon face mask and DIY cooling cucumber and mint eye mask.
6 Insanely Clever Things You'll Wish You'd Done At Your Wedding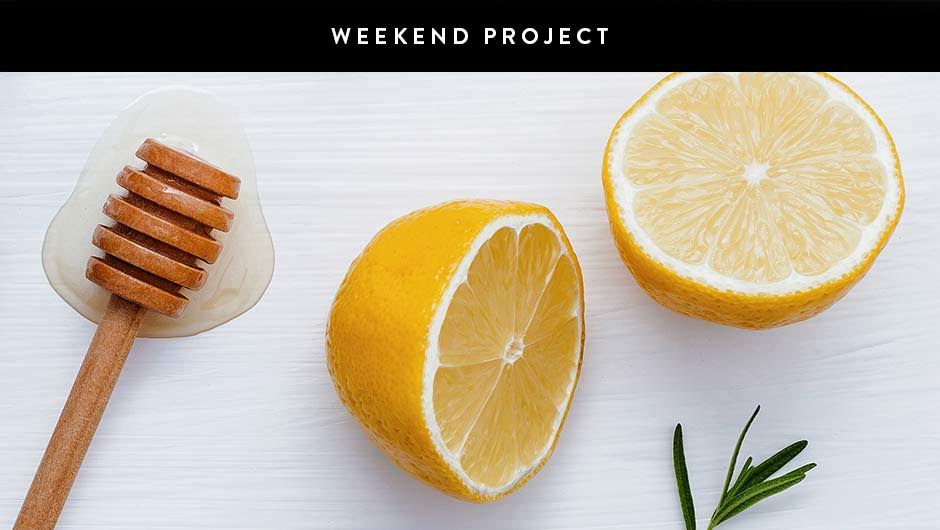 Weekend Project: Make Your Own Honey And Lemon Face Mask (It's Great For Neutralizing Redness!)
If you're familiar with any of my DIY posts, then you know that I love lemon. I drink lemon water all day every day and since I always have lemons laying around, I've found plenty of other good uses for them. One of my faves? My honey and lemon face mask! Honey has been part of women's beauty routines for centuries and for good reason: it is a fab natural ingredient. It is an anti-inflammatory, so it is perfect for the redness in my complexion and if you have any acne scarring this will be your saving grace. Plus, the silky texture keeps my skin soft and smooth and it'll do the same for yours. As for lemon, it is a natural source of vitamin C which also produces collagen in the skin (hello brighter skin, bye-bye wrinkles!). When you pair this face mask up with regularly consumption of this lemon-infused detox water (my favorite), you're basically setting yourself up for gorgeous skin. So without further ado, here's how to whip up the super easy honey lemon face mask that you all need to try: You'll need a ton of lemon juice, so squeeze 1/2 of a lemon into a bowl and mix this with 2 tablespoons of honey until it becomes liquid in consistency. Once you have your magic mask ready to go, just get that all over your face. This might get a little sticky so be sure you're in the kitchen, bathroom, or somewhere you don't mind the mess. Now just chill out for about 20 minutes while you let it transform your skin. Then rinse off with warm water. All done; hello gorgeous! Be sure to check out DIY cucumber and mint eye treatment and quick and easy DIY sunburn soother.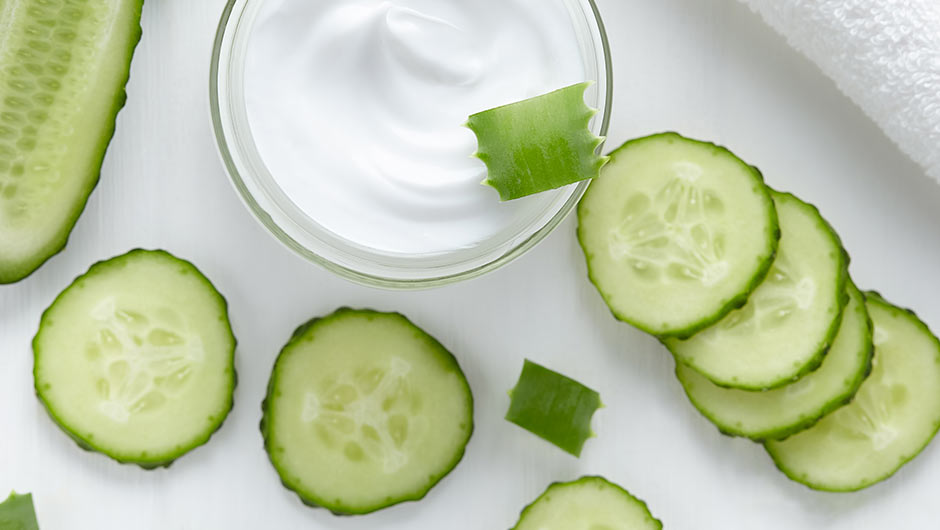 Weekend Project: Make Your Own Cooling Cucumber And Mint Eye Treatment
The picture that comes to mind when I think of relaxation and spa time is lying back with two cucumber slices resting on my eyes. Besides being a yummy, refreshing snack, cucumbers are bursting with health and beauty benefits. They aid in digestion and have tons of B vitamins that are known to ease stress and anxiety. There's more! Cucumbers also rejuvenate the skin and reduce puffiness and under-eye circles. Sound like just the thing you need after a long work week? Say no more! Here's how to whip up a super easy and relaxing DIY cucumber eye mask. You'll need just two ingredients: 5 sprigs of mint and half of a cucumber. Next, puree the cucumber and mint together in a blender. Gently pat the mixture underneath and around your eye area. You can leave this on as long as you want, but make sure it stays on for at least 15 minutes to let the puree work some magic before rinsing with warm water. This simple treatment works wonders because the cucumber decreases eye irritation and the mint softens the skin and increases blood circulation. Just follow up with your favorite moisturizer or eye cream and you've just treated yourself to the ultimate spa-like indulgence. Don't forget to check out make your own sunburn soother and 5 products that beauty influencers are obsessed with.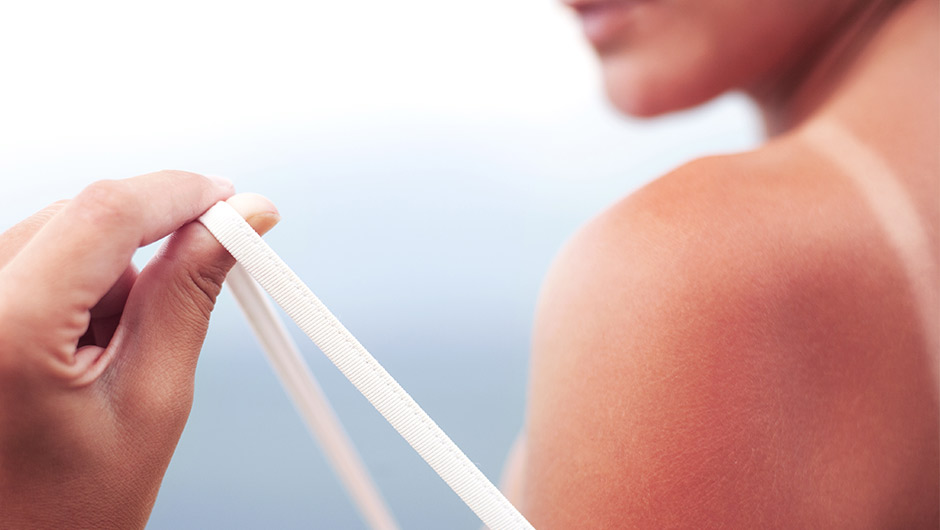 Weekend Project: Make Your Own Quick and Easy Sunburn Soother
It goes without saying that the excruciating pain that comes with a sunburn isn't worth the hours spent in the sun trying to "get some color." Oh well, what's done is done. I know firsthand how nasty and unpleasant sunburn (especially the first one of the season, yikes) can be, which is why I devised the perfect sunburn soother when you need to ease your suffering ASAP. It's simple, cooling, and will relieve your sunburn right away. Here's what you need: - Plain Greek Yogurt - Aloe Vera That plain Greek yogurt you've been chilling in the fridge for work on Monday? You'll need to buy another one, because you're going to use it to cure your sunburn. Yogurt that has live cultures work wonders on a sunburn because of the probiotics that help to heal our skin... and the fact that it is super cold from the fridge will definitely feel good, too. That might be all you need, but  take it a step further and add a scoop of aloe vera and mix it in with the yogurt. Apply as much as you need, and after you've let it sit, gently rinse off with cool water. All those hot spots on your skin will feel cool in no time. Don't forget to check out calming pillow mists to help you sleep like a baby and make your own coconut oil and honey hair mask.
Weekend Project: Make Your Own Coconut Oil And Honey Hair Mask
Whenever my hair is feeling like it needs a little extra life, my go-to is always an at-home hair mask. There's no need to shell out tons of money when ingredients you already have right in your kitchen will do the trick. This week I'll be sharing how to make a DIY hair mask using just two ingredients: coconut oil and honey. This combo works absolute magic on my hair--and it's sure to do the same for yours. Best of all, it's super easy to mix up. Here's what do to: Step 1: Warm up 3 tablespoons of coconut oil until it's melted. If you don't already own coconut oil this is something that can be easily purchased at almost any local grocery store! My personal fave is from Trader Joe's. Step 2: Once your coconut oil is all warmed up and ready to go, take 1/4 cup of honey and mix it with the melted coconut oil. Step 3: Hop in the shower, wet your hair, then work the coconut oil and honey mixture through damp your damp strands. Let the mask sit for at least 15 minutes (maybe even more if you have some extra time for some R&R!). Step 4: Rinse the mask out in the shower and your hair will be soft and refreshed! After a few treatments, you'll definitely notice that there is a little extra bounce and shine to your hair. Even better, the honey and coconut oil will even begin to repair damaged, dry hair. Let us know in the comments what DIYs you want to see next! Don't forget to check out the 5 products every woman needs to do an easy at-home pedicure and the best lip balms with SPF.
The Right Way To Get Rid Of Scratches On Sunglasses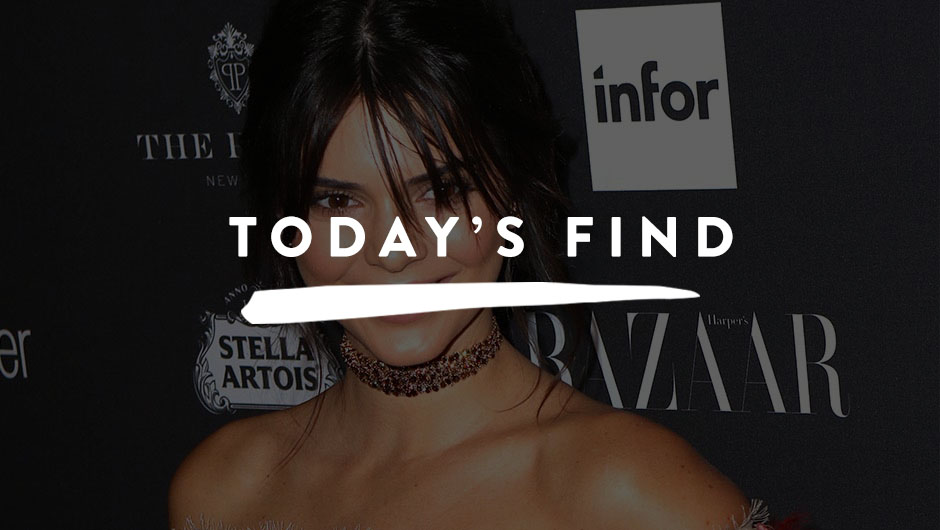 Kendall Jenner Swears By This DIY Zit Cream–Here's How To Make It
Kendall Jenner is very open about her struggles with acne--she even admitted it "completely ruined my skin" in a video on her app just last year. While her skin has cleared up as she's gotten older, which she credits to her dermatologist and the end of those awkward teen years, she still gets breakouts from time to time. So what does the supermodel do when a zit pops up out of nowhere? She uses a DIY spot treatment that's SO easy to make. You probably have all the ingredients in your kitchen already. Here's the recipe: Half teaspoon of baking soda Half teaspoon of lemon juice Teaspoon of honey And if you're wondering whether or not this concoction is legit, Allure did some digging to find out just that. Top dermatologist Joshua Zeichner gives his seal of approval. "Baking soda absorbs oil; acids in the lemon juice will exfoliate dead cells from the skin's surface; and honey will both calm and soothe inflamed skin and may help kill acne-causing bacteria on the skin." However, if your breakout is inflamed and painful, over-the-counter or prescription treatments are definitely the way to go. Will you try Kendall's recipe next time you get a pimple? Let us know in the comments below! Don't forget to check out: the diet of each Kardashian-Jenner sister and the cheap jeans Khloe can't stop wearing [Photo: Splash News]
I Never Buy Jewelry–Here's The Cheap Way I Make My Own
I'm a big jewelry girl - I love getting a new bracelet to add to the collection on my wrist, or a fun necklace to wear out. Unfortunately, I don't really have the funds to constantly be purchasing new jewelry, so last summer, I had the epiphany, why not just make my own?! I wanted to make myself a new beaded choker, so instead of aimlessly searching for one that I liked, I headed over to Michael's, got my beads, string and tools, and my beading hobby was born! Beading is really fun (and I personally find it therapeutic), so if you're in need of a new hobby, some "me" time, or just really like jewelry, this might be the activity for you! It's not that hard to get crafty, so if you're feeling inspired, here's what you'll need to start making your own jewelry: Bead Stopper. Once you've picked out your beading wire or choice of string, you need a bead stopper. Can you guess what it does???? Stops the beads... yup. When you squeeze this little contraption around your string, it creates a barrier for the beads you'll use. It's really handy, and if you don't want beads flying everywhere, you'll need one of these, for sure. Crimps and a Crimper. Once you've made your beaded masterpiece, you'll need to finish it off at the ends, duh. So, you need to buy crimps and a crimper. The tiny crimps will be placed on right after your last bead, and you'll loop the string through it, then through your clasp, and then back through the crimp. Once you're back, use the crimper tool to squeeze the crimp closed. That probably sounded a little complicated, but I promise, it's easy! Clasps. Of course, you need something to connect the two ends of your piece, so pick out your clasp of choice and some eyelets to connect the ends. Once they are looped on your string (after the crimp), you're good to go! So that's about it! Why not try it out?! Start out with something simple, and before you know it, your friends will be asking you for a new necklace all. the. time. Make sure to check out These Instagram Accounts For Nail Art Inspo and These Recipes Using Trader Joe's Cookie Butter!
How To DIY Those Sold Out Rosé Gummy Bears
As far as trendy foods go, rosé anything and everything is kind of major right now. Case in point: luxury candy company Sugarfina's newest creation, rosé gummy bears, and the candy's 12,000-people-long waiting list. We're definitely not patient enough to wait to get our hands on something so amazing-sounding, so naturally, we turned to the DIY route - and the recipe isn't nearly as difficult as it sounds. All you'll need is 1 cup of rosé, 5 tablespoons of powdered gelatin, a half cup of sugar and gummy bear molds, which you can order via Amazon for $8.59. Start by cooking the rosé in a saucepan on low heat, and gradually add the gelatin in. Feel free to add a bit of pink food coloring to boost the rosey hues too! Finally, add in the sugar and pour the mixture into the molds. You'll need to refrigerate your bears for at least two hours for them to be ready to eat, so plan ahead! Rosé and sugar. Need we say more? We didn't think so. This recipe is too easy to not give it a try this summer! For more DIY, check out: The Cheapest And Easiest Green Smoothie Recipe and How To Make Cold Brew Coffee [Photo: Sugarfina]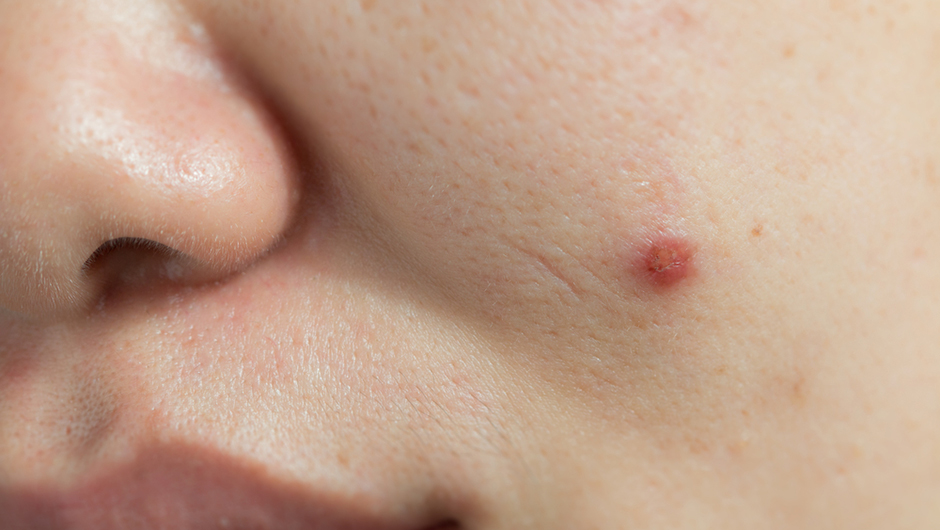 This Two-Ingredient DIY Recipe Will Instantly Reduce The Size Of A Swollen Pimple
As someone who suffers from super painful, debilitating chronic migraines that can put me out of commission for an entire day, I've gotten to know the magic of aspirin pretty well. But it turns out that aspirin's anti-inflammatory properties are also amazing for another one of my common ailments: acne. If you've ever gotten a massive, swollen red pimple, you feel my pain - not only does it hurt for a day or two, but it's also a lot harder to cover up than most blemishes. Luckily though, it's aspirin to the rescue. To majorly reduce the swelling of your pimple (therefore making it less painful and easier to hide with makeup), all you'll need is regular dose aspirin ($4.74) and water. Use a metal spoon to crush an aspirin tablet into a powder, and add only a drop or two of water to the aspirin tablet to create a paste. Apply the paste to your blemish and allow it to sit for five minutes. After five minutes, simply rinse the paste off with water - your zit should be half its size! Feeling even more #blessed about the existence of aspirin? Me too. For more beauty tips and tricks, check out: Does Sweating Make You Break Out? The Answer. and The 6 Best Drugstore Moisturizers With SPF Because, Summer [Photo: Shutterstock]