Bachelorette parties are the perfect way to celebrate a bride, right before her big day and she says "I do". There are so many ways you can celebrate a bachelorette weekend, from a relaxing beach vacation to a fun night out for dinner and drinks, the possibilities for the ultimate girls night out are endless! Any way you celebrate it, it's sure to be a good time. No matter what you decide to do, make sure to include a few bachelorette party games that aren't lame to make the event extra fun and memorable.
If the party guests come from different points in the bride's life like they often do, bachelorette games make for great icebreakers. Plus, there's always downtime in between meals and going out that should be filled with the maximum amount of fun and laughs possible. There are hilarious games to pass by any free time you may have with the bride.
We came up with unique bachelorette party games that are neither boring nor extremely embarrassing for the bride-to-be, to ensure everyone will have the best time possible. Print out these games, stock up on your supplies, let the liquor flow, and let the good times roll!
Here Are 10 Bachelorette Party Activities That Don't Suck:
1. Photo Scavenger Hunt
Create a photo challenge list of various shots that each member of the bridal party must get over the course of the bachelorette party. Some examples include: a photo of someone in a white dress, a picture kissing a bartender, a group picture with another bachelorette party. By making your own photo challenge, you can tailor it to your bride-to-be. Whoever finishes the entire photo challenge first wins–feel free to incorporate prizes, of course. Not only will the scavenger hunt give you something fun to do, in the end, you'll have a bunch of photos to remember it by.
2. Groom Trivia
Bride Tribe Gold Glitter Bachelorette Party Shot Glasses ($5.95)
Quiz the bride with questions the groom has already answered about himself and the relationship. If she gets the question wrong, she has to take a shot for her incorrect guess. However, for each correct answer, everyone else in the bridal party must take a shot. To make the game all the more fun, you can purchase personalized glasses or matching bride tribe shot glasses.
3. Most Likely To…
Everyone in the bridal party will need a set of index cards and a pen for this game. In addition to that, every player needs their own hand of cards with the names of each guest on a card. If 10 girls are playing, each girl should hold 10 cards with one person's name on each card. The first player presents a "Most Likely To…" situation, such as "Most Likely to Kiss a Total Stranger." Each player writes down the card of the person in the bridal party that they think is most likely to complete that activity. If you're voted most likely by the majority, you drink. Good scenarios for this game are things like most likely to hook up at the wedding, most likely to get married next, and so on.
4. Wig Out
Short Pink Bob Wig With Bangs ($21.98)
This one is not so much a game, but more so a bachelorette party activity. Coordinate your entire bridal party to wear one color of wing, specifically in the bride's favorite color. The bride can either wear a colored wig as well or wear a plain black one to stand out in the group. Once you're all in costume, head out to the bar! The wigs are a fun way to mix things up and draw attention to a crowd to your bridal party.
5. Dare Card Game
Bachelorette Dare Card Girls Night Out -24 Scratch Off Cards For Ladies Night ($10.01)
Play a game of dare with this fun card game. Make your own cards or purchase this scratch off version from Amazon to get the party started. Go around in a circle at a bar or nightclub and take turns completing the dares. To make things even more fun and calm nerves, have each guest take a drink before stratching off the card.
6. Take a Bow
Buy a roll of bright, sparkly ribbon and tie a bow around each bridal party guest's wrist. Whenever the bachelorette wants a drink, she'll untie someone's bow and that person has to buy her a cocktail or shot of her choice, in addition to taking a drink themselves.
7. Bachelorette Mad Libs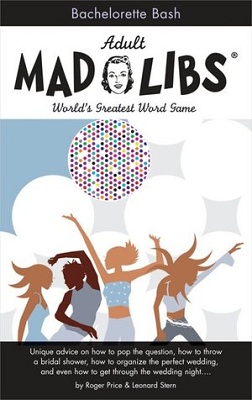 Bachelorette Mad Libs ($3.99)
Mad libs–classic and portable. This is a great bachelorette party game to play on a car, limo, or party bus ride. It will provide a lot of laughs while you pass the time away!
8. He Says, She Says
Create a quiz in which bachelorette party guests have to decide whether the bride or the groom said a particular quote. Take turns going around in a circle giving your guesses. If you're wrong, you take a drink!
For more wedding ideas on SHEfinds, check out:
—15 Wedding Hairstyle Trends That Are IN For 2018
—5 Things You'll Learn As Soon As You Get Engaged
—10 Mistakes Every Summer Bride Should Avoid
—8 Things You Should Never DIY For Your Wedding, According To The Pros
[Photos: Shutterstock]
SheFinds receives commissions for purchases made through the links in this post.