Storing your swimsuits can be tricky–do they belong in your underwear drawer or in their own bin or basket? Should they be stashed in individual plastic baggies? How do you avoid getting them tangled in to one big ball? We're here to help–there is a right way to store your swimsuits:
-The first step is to wash them (as needed) and air dry them completely–here are instructions for that. You obviously don't want to put your suits in the drawer with even the smallest amount of moisture. Not only do you risk mildew forming (ew!) but moisture also eats away at the suit's fabric.
-The second step is to lay them flat. This helps maintain the shape of the suit. It's also a good way to keep corresponding tops and bottoms organized. Here's how I did mine (it took 2 seconds):
-Do NOT store them in plastic bags (like Ziploc or shopping bags) because this can cause moisture buildup. I've seen this "hack" on Pinterest–yes, it keeps individual bikini sets organized, but it's a breeding ground for mildew!
-If you're storing your suits for winter, you can then place them in a fabric garment bag. Again, avoid the plastic garment bags. Vacuum seal the bag, if possible–this keeps the air and circulating particles out.
-Place the garment bag in a temperature controlled room–aka, no closets, attics, garages or outdoor storage spaces.
-If you're storing them in your closet for easy accessibility (aka, for spring and summer), you can place them flat on a shelf, in a drawer or a lined box. I used a plastic storage bin (below). Keep them in your bedroom (under the bed) or in your closet.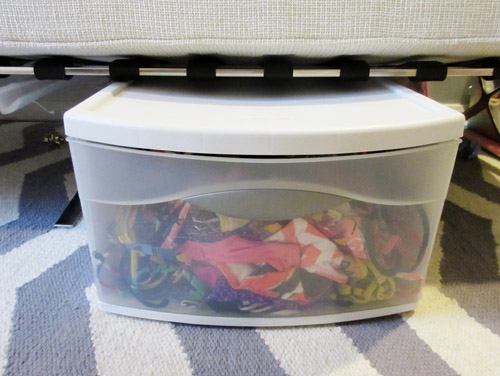 Voila! Your suits will last longer, stay fresher and be easier to find when you're ready to wear 'em.
[Photos: Always Judging, my own; Sources: Who What Wear, Swimsuits Direct]