America might be on the verge of a White Claw shortage, but you can make everyone's favorite adult beverage of summer immortal by using it as inspiration for this year's DIY Halloween costume. Because there ain't no laws when you're drinking Claws!
ICYMI: White Claw became the hard seltzer of choice summer 2019. It has been the subject memes, social media discussions and even a song. CNN reported that the drink accounted for almost 55% of all hard seltzer sales during the week of July 4th, while sales over the entire month grew by 283% compared to the year before. In short, White Claw is taking the country by storm – and for good reason.
White Claw was created by Mark Anthony Brands, aka the same people who brought you Mike's Hard Lemonade. The spiked seltzer comes in five delightful flavors and a 12 oz can is just 100 calories. Plus, it's gluten free. Each of the flavors – Ruby Grapefruit, Raspberry, Mango, Black Cherry and Natural Lime – are made from a blend of carbonated water and a gluten free alcohol base with a hint of fruit flavor. The result? A refreshing, yummy drink perfect for a hot summer day.
That being said, White Claw is not just for #HotGirlSummer. Now that we're moving into fall, it's the right time to think about Halloween looks. And White Claw fits right into your costume plans.
Woman crush Wednesday is canceled, it's White Claw Wednesday now

— White Claw Gang (@whiteclawcrew) July 24, 2019
Why should you dress up as a hard seltzer for Halloween? For one thing, White Claw is a very easy costume to DIY. You only need a few pieces, and you might already have some of them sitting in your closet. Also, White Claw is extremely popular, meaning your Halloween costume will be instantly recognizable and coveted by others. And most importantly, since there are five flavors of White Claw, the drink is perfect for group Halloween costumes. Lastly, you can easily make it a group costume by being a whole variety pack together! Goals.
How To Make An Easy White Claw Halloween Costume
Black Cherry
The most important part of the White Claw Halloween costume is the drink's logo. Seen on every can and every flavor of the hard selzter, the logo is a round icon with the words "White Claw" making up the shape's top left outline, and a splashing wave image right at the center. If you're on the craftier side, you might want to try out drawing the logo on a white T-shirt you already have.
Lucky for the rest of us, Amazon has us covered. You can pick up this White Claw logo T-shirt for just $8.60. Then, pick your flavor and add some color to the rest of the look. If you're going for the ever-popular Black Cherry, you'll need a lot of pink. These $14.90 Forever21 Solid Knit Leggings are just the thing. And maybe a headband? You can get the perfect accessory for $7.99 on Amazon, too.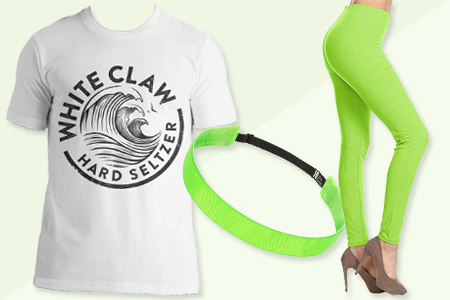 Natural Lime
If green is more your thing, you should pick Natural Lime. This White Claw flavor comes in a can with lime green accent color, so you can rest assured that there is no way you could wear too much green.
To make this costume, you just need that same White Claw Logo T-Shirt from Amazon for $8.60, plus fill your Amazon cart with this pair of neon leggings for $7.99 and this nice green headband for $12. And, if you want to get even more into your flavor, the green headband is the perfect place to write the label "Natural Lime" as an added DIY step.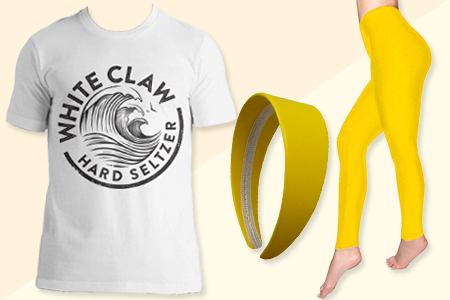 Mango
If you're more of a mango kind of gal, this Halloween, your costume is all about the yellow. Just like the Black Cherry and Natural Lime costumes, the Mango look starts with the White Claw logo T-shirt from Amazon. Don't check out just yet, though, because Amazon is the one-stop shop for your White Claw Mango costume. You can get the costume's stretchy yellow leggings and your yellow headbandall in the same purchase.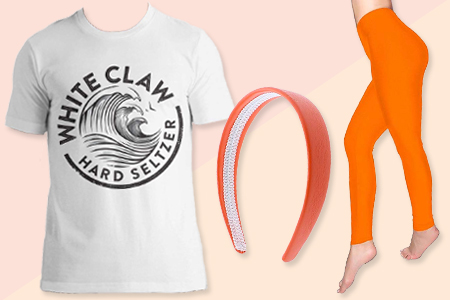 Ruby Grapefruit
Despite its name, the color of the Ruby Grapefruit flavor's packaging seems closer to a blood orange hue - and blood orange is not a color that you can easily find on leggings. But we think that normal orange is close enough to do the trick. So, if you are your White Claw crew's Ruby Grapefruit, all you need for your DIY Halloween costume is that same White Claw logo T-shirt,these cute orange leggings, and a matching orange headband.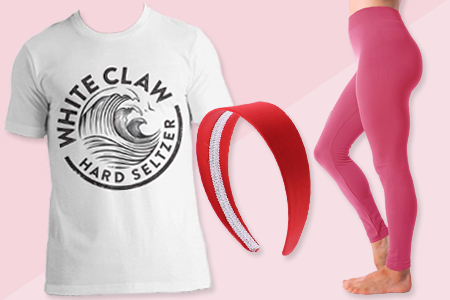 Raspberry
Raspberry might be the best White Claw flavor to dress up as, and not just because of how yummy the drink is. We found you a pair of fleece-lined leggings that come in red and only cost $8.99 on Walmart, so you will be comfy and cozy despite how chilly it might get on Halloween. And like with the other White Claw flavors, all you need to do for the Raspberry costume is grab a White Claw logo T-shirt from Amazon and top it with a red headband.
SheFinds receives commissions for purchases made through the links in this post.