It's an accessory we so often neglect to think more about, but an important one when it comes to sustaining our smartphone's battery power: charging cables.
If you have an iPhone, you are likely using an Apple store-bought charging cable for most or all of your charging needs. But if that charging wire frays or you would like to stash an extra charger or two at work or in another room, you don't have to run out and spend a bundle on more Apple chargers.
This is the iPhone charger every Apple store employee loves because it adds YEARS to your phone battery.
Shutterstock
If you aren't keen on spending a lot of money on Apple products like their charging cables, you don't have to take the plunge for the sake of your iPhone battery. You can choose between two types of chargers — wired or wireless charging. But it's crucial to look for the right kind of charger that suits your iPhone's needs — needs that are slightly different from that of an Android phone.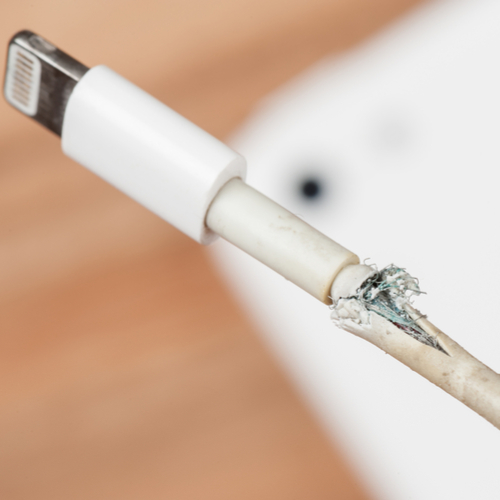 Shutterstock
According to Tech Radar, wired charging can be a faster method, though that isn't always the case. The more important factor is the power of your charger.

"Until very recently every iPhone came with a 5W charger, but iPhones have supported fast charging since the iPhone 8: for that you'll need an 18W charger or better, and it should have a USB-C connector, not the more familiar USB-A," reports Tech Radar. "iPhones use slightly different wireless charging to Android devices, so it's crucial that you look for PD (Power Delivery) if fast charging matters to you: that's the one Apple's iPhones use."
Believe it or not, Tech Radar's top pick for the best charging cable for your iPhone can be purchased for just $11. The Anker USB C to Lightning Cable ($11) boasts a 3-foot cord and has been tested and proven to be able to sustain 12,000 bends in a lab before fraying (hello, money saver).
The cable checks off most of Tech Radar's boxes: "Length isn't the only good thing here. Nylon braiding means it doesn't tangle easily, and the sleeves at the joint between the cable and the connector prevent the bending that can lead to dangerous fraying.
The colors range from utilitarian grey to hard-to-lose red and rose gold.
Our only niggle is that the lightning end feels a little looser than Apple's own cable, especially in our iPad."
Shutterstock
What do reviewers have to say about this cable? Over the years, Anker has proven itself a trustworthy Apple MFi Certified brand (it's really important to only purchase Apple-certified chargers and cables if you plan on going this route). And this cable doesn't disappoint.

Reviewers keep it simple with comments like "Worked great" and "Great charging cable."

Similar Anker charging cables boast more than 1,000 great reviews with comments like: "Upon opening, i was excited to see how thick this cord was. I've gone through several genuine Apple cords, only to have the cord under the Lighting Port connector fray after a couple months of use. I suspect that the thinness of the Genuine Apple cords is the culprit, and this Anker cord does not seem that it'll have that issue at all. On top of seeming really durable, the 6ft cord was a convience I never knew I wanted (they also included a cable tie made Velcro)."
No matter which Anker charging cable you choose, this is a brand to keep at the top of your tech accessory shopping list.