Better late than never to start planning your Halloween costume. If you take this holiday really seriously, aka you want to look cute AND have a clever costume, you should consider a Harley Quinn Halloween costume. Google says it's one of the top trending Halloween costumes of the year–plus, it's way cuter than the other clown-face costume trending this year.
The DC Comics character, played by Margot Robbie in "Suicide Squad" (LOVE her!), is the perfect combination of bad-ass grit and effortless cool. Did you know that this version of the character was inspired by Blondie frontwoman Debbie Harry, specifically this 1976 look. So cool, right??
Here's a pic of the Harley Quinn character from a movie poster for the film ($2.52) "Suicide Squad." Her main features are the red and blue pigtail hair (which you can get by buying a wig, or if you have blonde or light-colored hair by creating pigtails and using hair dye like Manic Panic on the ends), her "Daddy's Lil Monster" raglan tee, Puddin choker, "Good Night" baseball, red and blue sequin hotpants, fishnet tights, gold jewelry and studded belt.
So, how to do the Harley Quinn costume?
1. The Hair:
You can buy one of these Pink and blue pigtail wigs ($15.39), there are tons of them on Amazon and on other Halloween costume sites. If you have blonde hair, just do a center part and create two high pony tail pigtails with red hair elastics. Use a 2-inch wand to curl the ends a bit, and pull tendrils from the top of the hairline. Then apply temporary pink/red and blue hair dye to the ends (start around the ear and spray/chalk down to the ends).
2. The Baseball Tee: 
For the top, you'll definitely need her exact Daddy's Lil Monster Raglan tee ($28.50), which is available at Hot Topic, Amazon, and the Halloween costume sites. You shouldn't have a problem finding the exact one, but if you're getting the costume last minute and need to improvise–any white raglan/baseball tee with blue or white stripes on the arms should work. Bonus if it has a vintage graphic.
The Clown Makeup: 
You'll need red, white and blue face paint or really pigmented makeup to get the look. Here's how to do it: do white all over the face (or if you're anti-face paint, try white face powder). You'll need a blue smear below the left eye and a red smear beneath the right. Here's a full makeup tutorial from Youtube for the hair and makeup:
[youtube]https://www.youtube.com/watch?v=tJNKmo_wPpg[/youtube]
The 'Property Of Joker' Jacket: 
She wears a cool red and blue bomber jacket, too. Again, stores like Amazon, Hot Topic and the Halloween shops have the exact jacket (hurry–there's only one size left!), if you want to get one. They're $79.90, so if you'd prefer to improvise, just use a red or blue zip-up hoodie or jacket. Nobody will notice if it doesn't have the exact "Property of Joker" on the back.
The Red And Blue Hot Shorts: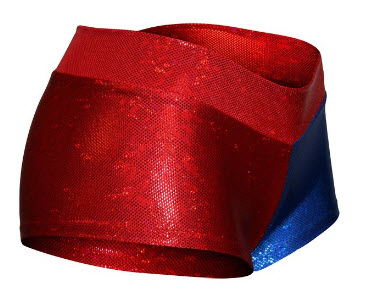 This is a sexy part of the costume: her red and blue sequin hotpant shorts. Amazon has a bunch of different pairs, the Holographic Red and Blue Cosplay Booty Shorts ($44) look good. Don't worry, we're going to pair the shorts with tights (see below)–but if you're not comfortable in hot pants, you could rock longer shorters or leggings (as long as they are red or blue, or ideally one red leg and one blue leg). Here's a leggings version.
The Studded Belt: 
Some of the shorts come with a belt, or you can buy a studded belt separately (or use one that you already own). We found this pyramid stud belt on Amazon.
The Fishnet Tights: 
Here are some fishnet leggings you can wear under the tights. You can literally use any kind of tights–fishnet, opaque, striped, patterned, etc. This is an area of the costume that does not have to be exact! Whatever you feel most comfortable in.
The 'Good Night' Baseball Bat: 
You'll definitely want this–but be careful!!–the "Good Night" baseball bat ($24.99) she uses in the film. If you want to save some money here, just use a regular baseball bat.
The Puddin Choker: 
To top off the look, you'll need the Puddin choker ($9.95) that Margot wears in the film. We found the exact one at Spencer's (other sites have them too). You could also wear any gold or spiked choker or bangles that you have. At this point, you're just making the look feel more custom and cool.