Every great superhero and villain needs a sidekick, but you could argue that Harley Quinn–who is the Joker's main squeeze–is just as exciting and interesting as her number one companion.
Harley Quinn, whose real name is Harleen Frances Quinzel, was a psychiatrist introduced in the Batman comics who just happens to fall in love with one of her patients, the Joker. After a rather tumultuous on-off relationship with Joker, and an injection she receives from Poison Ivy that causes her strength to increase, Harley becomes a member of the Suicide Squad.
Dressing Up As Harley Quinn From Suicide Squad For Halloween This Year
If you take this holiday really seriously, aka you want to look cute AND have a clever costume, you should consider a Harley Quinn Halloween costume.
The DC Comics character, played by Margot Robbie in "Suicide Squad" (LOVE her!), is the perfect combination of bad-ass grit and effortless cool. Did you know that this version of the character was inspired by Blondie frontwoman Debbie Harry, specifically this 1976 look. So cool, right?
Even though her outfit is as distinct as a costume can get, it's pretty easy, and affordable, to create this DIY Harley Quinn Halloween costume using pieces from Amazon. Here's how to get Harley's punk look for less.
Harley Quinn's main features are the red and blue pigtail hair (which you can get by buying a wig, or if you have blonde or light-colored hair by creating pigtails and using hair dye like Manic Panic on the ends), her "Daddy's Lil Monster" raglan tee, Puddin choker, "Good Night" baseball, red and blue sequin hotpants, fishnet tights, gold jewelry and studded belt.
What You Need For A Harley Quinn Halloween Costume
1. Harley's Colorful Blonde Hair
Rubie's Suicide Squad Harley Quinn Wig ($11.75)
If you already have platinum blonde or light blonde hair, we've got good news: you can get away with purchasing fun wash-out dyes in pink and blue, throwing your hair up in pigtails, and spray painting away (and, also, saving yourself money). Everybody else: this Harley Quinn wig does all of the work for you and costs much, much less than most wigs.
2. A Daddy's Lil Monster Top (Ripped Up) 
DC Comics Harley Quinn Top ($23)
Harley Quinn strolls around wearing her baseball shirt-style "Daddy's Lil Monster" shirt with three-quarter inch sleeves like she owns every place she walks into. And, short of purchasing a white shirt that is similar in style and adding lettering (which won't save you much money in the long run), this piece is perfect for your costume. Even better: it comes pre-ripped in all of the right spots. You, literally, won't have to do a single thing other than pull it on over your head.
3. Temporary Tattoos: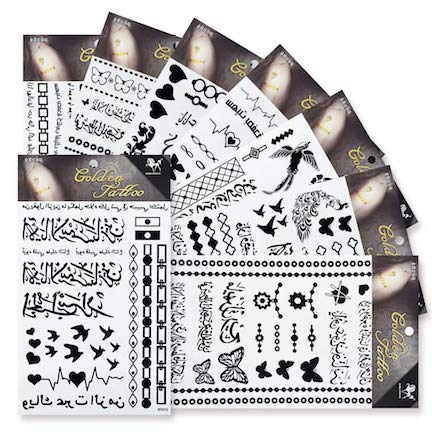 King Horse Temporary Tattoos ($8.99)
Harley is a girl who loves her body ink. These temporary tattoo sheets come with a total of 230 designs — go wild applying them to your legs, belly, everywhere — and don't forget to add a heart and the word "Rotten" written in eyeliner on your cheek.
4. A Satin Varsity Jacket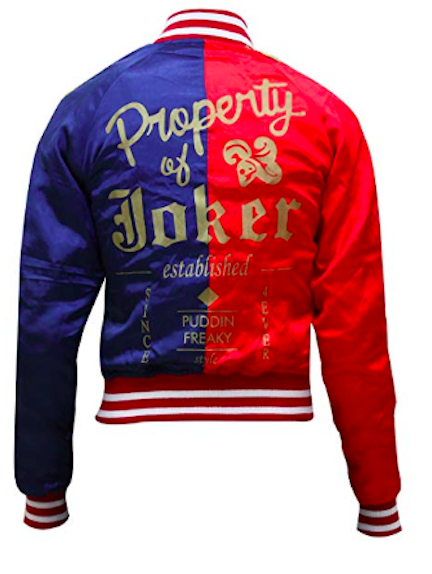 LP-Facon Varsity Jacket ($29)
Who doesn't love Harley's shiny, red and blue baseball-style varsity jacket? Save money, while keeping true to Harley's style with this alternative jacket, which costs much less than the official bombers you'll find. Or, if this piece is out of your Halloween budget, ditch the jacket altogether — Harley's shirt, shorts, and the rest of her costume make it clear just who you're paying homage to this Halloween.
5. Blue Boy Shorts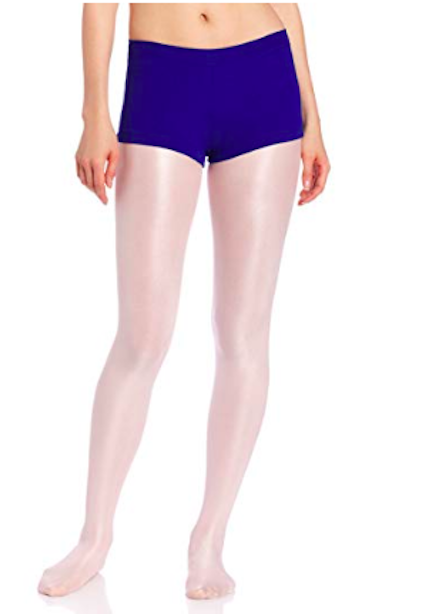 Capezio Low-Rise Boyshort ($8-25)
Margot Robbie's Harley Quinn dresses in extremely teeny shorts that almost look like underwear. You can get away with these blue boy shorts, which have the same low-rise waist but are slightly longer, less clingy, and more comfortable. And if these don't make you feel comfortable, a pair of blue leggings or even Harlequin-style leggings are a totally fine substitute, as well.
6. A Punk-Style Double Grommet Belt
Motase Double Grommet Belt ($15)
This double grommet, punk-style belt should sit a little low on your waist. It's adjustable, thanks to holes located throughout, and made from leather. And it comes in four sizes, so it shouldn't be too difficult to find the perfect fit.
7. Black Fishnet Stockings
Bkvava Fishnet Stockings ($8.99)
Grab a pair of black fishnet stockings and wear them under your boy shorts, in true Harley Quinn style. These are one-style-fits most and are both stretchy and comfortable.
8. A Bat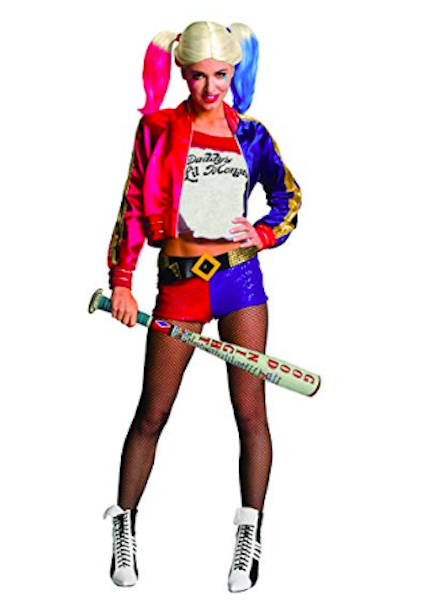 Rubie's Harley Quinn's Bat ($10.10)
We're all for buying miniature or toy version of film props to save money, but this Harley Quinn inflatable bat is actually cheaper than most — and it's an exact replica of the one Harley carries around.
9. Knee-High Black and White Canvas Sneakers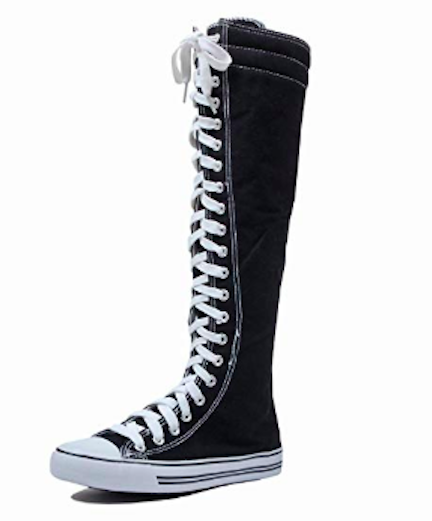 DW Tall Canvas Lace-Up Sneakers ($7-23)
Depending on your size, you can score these knee-high canvas sneakers in black and white for less than $10. They differ from the shorter black and white sneakers with heels you'll see most Harley Quinn's sporting on Halloween, but the upside to wearing these instead is that they are super comfortable and you'll be able to stay on your feet and dance all night.
Harley Quinn Puddin Choker – Suicide Squad ($14.99)
To top off the look, you'll need the Puddin choker that Margot wears in the film. We found the exact one at Spencer's (other sites have them too). You could also wear any gold or spiked choker or bangles that you have. At this point, you're just making the look feel more custom and cool.
SheFinds receives commissions for purchases made through the links in this post.