Most people like soft t-shirts. Mike Natenshon loves them. When his favorite tee split down the back, he actually took it to a tailor to get fixed. LOL. And then came the ultimatum from his girlfriend–it was her or the shirt. His girlfriend was right, the tee was past the point of no return–but it still hurt. A lot. The shirt went in the trash, but Mike's new mission was to create a shirt that would feel as good as his old one, from the very first wear.
And you can thank Mike for not letting this one go. One year, one VW bus, some recycled beechwood and MicroModal later, he and a friend succeeded in their goal. His Marine Layer line is now widely regarded as being "the softest."
And not just like, "Oh, this is so soft."As the website explains, the reaction to the line is on another level. "It's not like "oh, this feels nice" soft. It's "holy sh#% how did they make this I'm never taking it off." You will seriously want to live in them. Or as one customer review stated, "I want to be buried in Marine Layer."
On a less morbid note, I'd been on a mission to find the softest tee (in my search history you'll find such gems as "softest t-shirts in the world" and "new shirts that feel really old."). I've tried the wash them 10 x in sodium carbonate hack, which totally works, but is also exhausting. As a busy mom, I don't have time to live in the laundry room. Being able to order a shirt and know that it will come at peak softness is huge. Plus, Marine Layer shirts last forever and are made in the USA, which really matters to me.
If you're shopping for a loved one, or yourself, right now–consider a Marine Layer tee as the answer to all your softness cravings. They're delightful. But the best way to know for sure is to try one for yourself: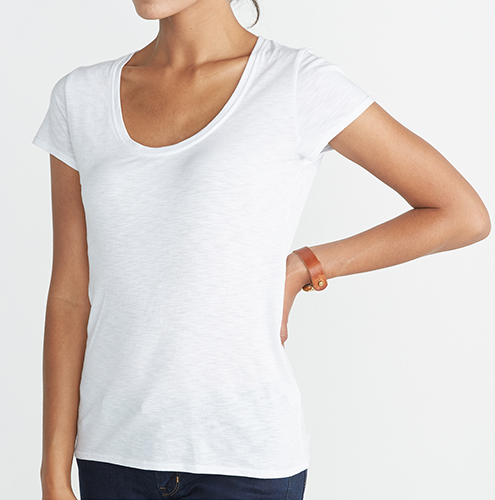 Shop now: Marine Layer Slub U-Neck Tee ($39)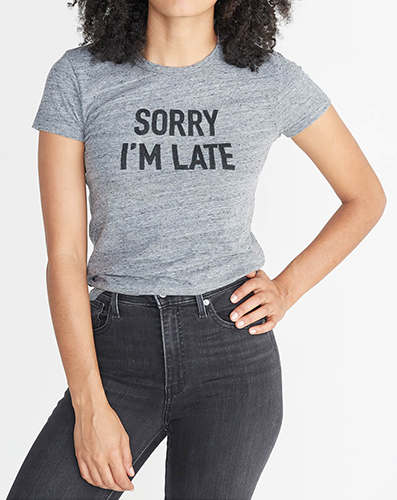 Marine Layer Sorry I'm Late Graphic Tee ($48)
Marine Layer Amy Boyfriend Tee ($39)